Coaldale CIB offers maple leaf memorials
Posted on May 9, 2017 by Sunny South News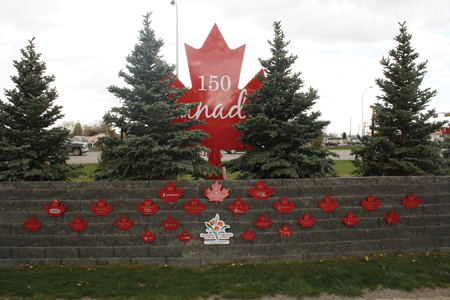 Sunny South File Photo
By Stan Ashbee
Sunny South News
Coaldale's Communities in Bloom (CIB) has served the community since 2002. To mark the occasion, on July 15 there will be a special anniversary celebration to coincide with the organization's annual Garden Tour.
Presently, CIB has a memorial maple leaf plaque blitz in motion and organizers hope residents will get involved.
"We just want to expand the maple leafs on the wall behind the Canada 150 maple leaf. We want to give people the opportunity to do memorials in memory of their loved ones. We want to do a special area with the memory of them," said Doreen Lloyd from CIB, adding the plaques are $200 for bronze, $500 for gold and $1,000 for platinum.
"We can put something up in memory," she said, adding there has been a lot of interest with the maple leaf plaques, located just off Highway 3. "If you missed out on the clock, here's your chance."
Lloyd noted May 27 is the organization's Spring Clean Up and Planting.
"Meet at the maple leaf at 10 a.m. We'll just do a couple of hours walking the streets and cleaning up and doing some planting," she explained.
Lloyd also encourages residents to clean up their own yards in order to get the town looking good for CIB judging, to take place in July.
Call Lloyd at 403-315-3636 or e-mail through the website at coaldaleblooms.com.
There are also five per cent off discount coupons available online for red and white flowers from Rehoboth until May 20, Lloyd added.
According to Lloyd, this year CIB will feature a Business of the Week on top of the Yard of the Week, which begins at the end of June. These features will be included in the Sunny South News.
This summer's projects include a Church Community Challenge. According to the CIB website, "Churches in Coaldale gave an enthusiastic positive response to the challenge to enhance and beautify their yards."
A Business and Commercial Challenge. According to the CIB website, "Some of the things presented to businesses to consider as community involvement include flower boxes, weeding, beautify and paint business premises, environmentally friendly disposals, volunteerism, and Christmas lights."
According to the CIB website, the six pillars of CIB include tidiness, environmental action, heritage conservation, urban forestry, landscape and floral display. The local CIB has won the provincial award twice and was named Group Citizen of the Year from the Coaldale and District Chamber of Commerce.
Last year, the group sold over 4,000 Canada 150 tulip bulbs.