Broderson U.S. bound to national rodeo finals
Posted on June 20, 2017 by Sunny South News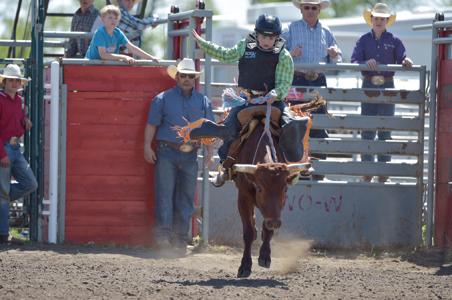 By Stan Ashbee
Sunny South News
Colton Broderson from R.I. Baker Middle School in Coaldale is off to Lebanon, Tennessee this week to compete at the National Junior High School Rodeo Finals. The 14-year-old competes at the junior high level for the Alberta High School Rodeo Association. According to his official bio, Broderson comes from a rodeo background with his dad being a former professional bull rider.
Broderson competed in the Alberta Junior High School Rodeo Finals in May. The Alberta finals, held in Olds this year, consisted of the top 12 rodeo athletes from the three districts in Alberta. The top four in each event qualified to go to Tennessee.
Nationals will have rodeo athletes from Canada, the United States and Australia vying for the national title.
Broderson finished second in the saddle bronc steer riding at the Alberta finals and was very excited to attend nationals this week.
"The junior high starts at Grade 6 and then they compete in divisions throughout Alberta. There's three different divisions. It's just based on different areas of Alberta," said Colton's mom Shannon.
Colton, Shannon said, made it to the Alberta finals in six events. "When you're competing up in the Alberta finals, the top four in those Alberta finals get to go to the nationals. He was able to finish second place in saddle bronc steer riding. They call it the 'Build a Cowboy' program, to build them up to eventually ride horses in the saddle bronc. They start on steers, just to get them used to the event. Once they're done junior high division in high school they would ride the broncs instead," she explained.
According to the proud mom, the aforementioned was one of the events Colton was able to qualify in. "From there, he's able to go down to Lebanon and he'll compete against kids from other provinces in Canada, as well as quite a few States and then there's some Australian contestants," she noted.