Elevate — Intro to Ironworking program
Posted on June 27, 2017 by Sunny South News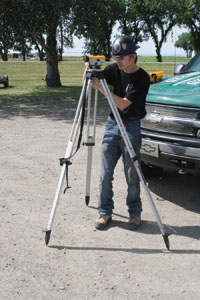 By Stan Ashbee
Sunny South News
Earlier this month 15 Grade 11 and Grade 12 students from southern Alberta were enrolled in Elevate — Introduction to Ironworking.
An event was held June 8 at the rural Lethbridge College location on Jail Road (Highway 512). The event included a brief overview of the training program, a student presentation, and skill demonstrations by the students. The Introduction to Ironworking program was initiated by Ironworkers Local 725, as Career Transitions co-ordinated school/student involvement and facilitated the recruitment process.
Students had to apply and had to commit to maintaining academic standing in order to attend the program, according to a media release.
Elevate focuses on the construction of wind turbines, as the skills learned in the 10-week program can be transferred to other trades. Another focus of the program is to provide students with a basic introduction to the skills and processes required to erect a wind turbine.
Students also took Rough Terrain Forklift training. Safety is always the primary concern for the Ironworkers and as a result, students left the program with OSSA accredited tickets in Fall Protection and Elevated Work Platform. Students also completed High Angle Rope Rescue Training, as well as the Safestart Program, which taught them how to be proactive and identify factors that could compromise safety.
"This is a 10-week industry-standard training program conceived of I think last summer and brought to life as of April. Given the significant impact this program could have and certainly the significant investment we wanted to make sure we were doing a first-rate job in picking the right students. We knew we wanted to hit it out of the park, as a pilot project. As a result, we determined a competitive entry into the program would be a good way to go," said Career Transitions Executive Director Judy Stolk-Ingram. The program is worth credits too.
"A focus on academics was a very critical piece," she added.
One student enrolled in the program was 18-year-old Ethan Clark, who graduated from Kate Andrews High School (KAHS) in Coaldale.
Clark noted he loved the teachers and the program overall. "It's amazing. It's just hands-on, which is right down my alley," he said, adding rebar and welding work will always be around.
"Which it's all good all around skills to have," he said.