Chapman announces intentions to run for another term on council
Posted on July 18, 2017 by Sunny South News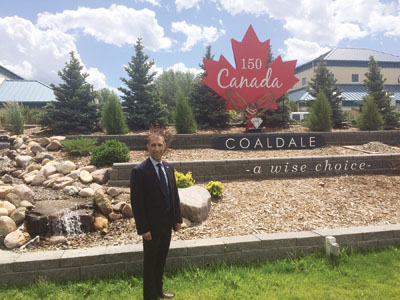 By Stan Ashbee
Sunny South News
Bill Chapman has announced his intentions to run for Town of Coaldale council for another term in the fall.
"I've planned for this for a long time. Without any regret, I'm just delighted to be able to offer my service once again for another term with the community of Coaldale," said Coun. Chapman.
Chapman feels the accomplishments he has already achieved through council the past 10 years has been overwhelmingly positive. "It has been a great experience. We have a great community. My wife and I came to Coaldale 20 years ago and we're just delighted with the community," he noted, adding many members of the community have been mentors to the couple.
It's been a wonderful journey for the Chapmans, according to the current councillor. "We want to give back to this community, I think council to me, has been one of my favourite opportunities to serve this community," he said.
Chapman was first elected to town council in October 2007. Since the early 2000s, Chapman could be seen out and about in the community at events and behind the scenes in council chambers helping to shape policy, as the town moves forward into 2017 and beyond.
"We've always enjoyed being a part of the community and being a part of every event that occurs," he pointed out.
"For my wife and I, we have really felt this is not just about campaigning or about looking at the next election. It really is about participating and giving back," he added.
As Chapman looks back at his time on town council and looking forward, he said Coaldale is at a turning point.
"We've got an excellent administration we've built on. Administration is really looking to the future. As Coaldale plans to take the next big step when it becomes even a city, we can be prepared for that. We're already envisioning what it's going to take. Annexation is a big part of the vision. Obviously, we're at the plate. Our land bank is shrinking and we've seen an exponential growth in economic development, particularly in the industrial park," he explained.
Because of the town's growth, Chapman said, more businesses and more people are interested in Coaldale.
"Coaldale's become a very fun town to live in and be a part of. To live, work and play. It's exciting to go through the community and you talk to people who are just excited to be here, they want to be here, they love the small community, they love our schooling and they love our recreation and they love the things they can do. It's a very warm community. People feel like they belong here. We see it at the council table, where people are really wanting to take the town to another level. We want to go there with them," he said.
Chapman added the town needs to be at the table moving forward with the provincial government and neighbouring municipalities, which includes Lethbridge County.
"Our relationships are growing. I'm excited with the fact there's real regional planning going on," he said.
Moving forward, Chapman said, education is a big issue at the moment.
"Because of the growth of the town, we also need more schools. We need to focus attention on those people in Coaldale that need good facilities for education," he said.
Chapman also added recreation is a priority for many residents of Coaldale.
"They see the need for expansion and growth in a number of interests including hockey and soccer. A second sheet of ice and a field house are among their top priorities. Council has approved to designate 'seed money' of $1 million towards the town's commitment to sport and recreation in Coaldale," he said.