Stafford Park — a local summer attraction
Posted on August 1, 2017 by Sunny South News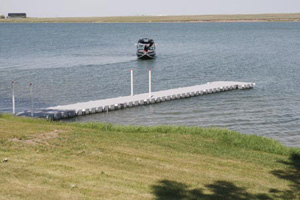 By Stan Ashbee
Sunny South News
Stafford Park is a local destination for seasonal camping and day-use for boating, having a picnic or cooling off with a swim.
Located about 15 minutes outside of Coaldale to the east, Stafford Park has been in operation under a partnership to revitalize with Lethbridge County and the St. Mary's River Irrigation District (SMRID) since 2015.
Kimberly Hranac from Stafford Park said a lot of sand was brought in last year for the beach, as one of a few additions to the southern Alberta tourist attraction.
"To create a nice little enjoyable area for people to sit and enjoy the sand," Hranac said, adding tree also give good coverage and shade and a brand new boat launch pad and dock are other additions to the park.
For seasonal camping, Hranac said there is site-to-site service.
"We will come around and do potable water or come around and do septic. We have a localized propane coming into provide propane top up and fire wood comes in," she said.
"As far as power goes, most everybody has to have their own quiet generators and/or solar because we don't have any direct hook-ups," she said.
According to Hranac, campers come in from May 1 and are able to stay until Oct. 1.
"Our permit with the county will expire in October. There is no wintering," she noted.
"Our operational focus is to offer a gentle mix of seasonal and short-term RV and tent camping access for summer 2017 in combination with seasonal and day picnic and boating passes," Hranac said.
Hranac pointed out in addition to the shoreline beach, swimming and picnic areas — the park features volleyball, basketball and horseshoe pits for recreational activities.
Camping is first come, first served and the park doesn't take reservations at this time. There are fully-operational showers, port-a-potties located throughout the park and there is a cafe.
According to Hranac, the park closed down between 2010 and 2015.