A little piece of RCMP History
Posted on August 24, 2017 by Sunny South News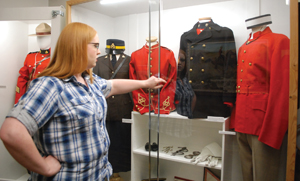 New Gem of the West exhibit celebrates Canada 150, RCMP
By Nikki Jamieson
Sunny South News
At the Gem of the West Museum, the newest exhibit pays homage to the history of the RCMP.
"It's also not only our Canada 150 exhibit, it's also our welcome to Coaldale Municipal RCMP detachment," said Carmen Vermeulen, society manager for the Gem of The West Museum.
The idea came from the society's past president, Duncan Lloyd. He had wanted to bring in some artifacts on loan from the RCMP Historical Collection Unit in Saskatchewan.
It took a year to bring the exhibit together, by the time they were putting it all together, they had a larger exhibit then they had expected.
"It was originally just suppose to be one exhibit room, and we ended up with two, because as we were getting design ideas and going through the process, it just kind of expanded."
There are two parts to the exhibit, which is located on the lower level of the museum by the front entrance. The first part is a room done up to look like an early RCMP officer's barracks.
The museum staff had consulted old photographs and visited other museums nearby with similar exhibits to get a feel for what the barrack would look like in addition to extensive background research, just so they could make sure their room looked like it could house a 19th century RCMP officer.
Vermeulen's favourite item in the exhibit is the red blankets on the barracks side, which she says are Hudson Bay blankets.
"The red blankets we actually found upstairs. We were going through our storage, not even really thinking about this when we found all these Hudson's Bay blanket, and thought 'Oh, well that will be cool for an exhibit one day', and then when we were doing this exhibit, we went, 'Oh remember those blankets upstairs?'. A lot of this came kind of by chance, it was oh look at this, look at this, we already have one of these. So it was very exciting."
Although a few items were constructed or donated, Vermeulen says that they already had most of the items needed to recreate the room.
"Everything in this room was stuff we already had in the museum. So it was just a matter of going through our storage and going through our exhibits and what can we pull that would be accurate in here," said Vermeulen.
"Everything except those pants. We actually had a lady donate a bunch of RCMP stuff, and we said ,'Oh, what a coincident, we have an exhibit'. We were just in the planning stage at that point, so we could bring some of that stuff in as well."
The second part of the exhibit is a collection of pictures and RCMP uniforms. The uniforms — four of which are on loan from Saskatchewan and another on loan from Coaldale RCMP Staff Sgt. Glenn Henry — feature designs worn by the RCMP since it's inception in 1873
"It's kind of a timeline in reverse order," said Vermeulen.
"We got the earliest uniform here on the right, and we got our modern uniform on the far left, and our woman's uniform from 1974, when woman were first allowed to join the RCMP."
The exhibit has been available for viewing since the start of the museum's regular season. Vermeulen said that it has been well received by the museum's patrons.
The exhibit will be open for viewing during regular museum hours up until Jan. 1, at which point the uniforms on loan will be sent back to the RCMP Historical Collection Unit.
The museum is currently undecided on whether to leave the remaining part of the exhibit up for next year.