Woodturners display work in Picture Butte
Posted on October 11, 2017 by Sunny South News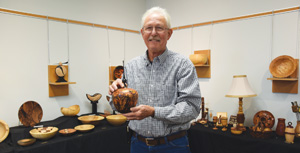 Photo by Nikki Jamieson
By Nikki Jamieson
Sunny South News
A new art exhibit in Picture Butte shows off the beauty of wood.
The Chinook Woodturning Guild is displaying their favourite wood pieces. With ten different wood turners displaying pieces such as ring, bowls, vase, decorations and mugs, if you can think it, they've probably done it.
Jessie Malmberg, member of the Picture Butte Art Gallery association, was invited to a guild meeting to demonstrate illustration techniques. She got to know Dan Michener, president of the Chinook Woodturning Guild and she and other member of the art gallery association asked if the wood turners would be interested in showing their work in the gallery. Thinking it was a good idea, the guild accepted the invitation.
"We didn't know we would have such a beautiful display set up," said Michener.
"Talking with Dan (Michener), we thought it would be so interesting for people to know what different things could be made out of different types of wood, and whatnot," said Malmberg.
"You can look at a bowl and say, 'Well, I don't know what kind of wood that is or how it's done', and by bringing them in, they can explain to us how it's made, what type of wood and everything. It makes it very interesting for the people."
The display went in the beginning of September, in a somewhat chaotic mess of crates as everyone figured out where everything should go. Michener described it as a zoo, with everyone bringing their own things.
The gallery also gave the wood turners an opportunity to view each other's stuff. Each artist personally chose what they wanted in the gallery, with Michener noting that he believed most of them chose the pieces they were proudest of.
"With a machine that turns the wood, you can get shapes and forms that are difficult to do in any other way. There is something that is pleasing about wood turning, and we're holding the tool, which is completely different from ordinary woodwork, where you push the wood through a tool, through a saw or something like that. This is not like that," said Michener. "This is all hand done; a hand-held tool against the wood as it turns, to carve away the bits that we don't want, to form the surfaces and concavities.
"That really appeals to a certain group of people, especially the feel of it. The feel of the curve of the wood, the feel of the wood itself is very appealing."
Describing wood turning as a "solitary, satisfying process", Michener spoke of the joy of going into his workshop and crafting something, and being pleasantly surprised at the results.
"You don't know what you've got until you've started crafting it… It really reveals the inner beauty of the wood."
In addition to the lathe, a tool that rotates a work-piece around an axis, and a workshop or space to work, wood turning requires an enjoyment of doing things by hand, eye hand coordination, and above all, patience.
Wood turning does take practice to get good at it after all, and a piece, from start to finish, could take months to finish.
"In an hour or so, I can have a rough turned bowl. It's thick and ugly, but it's greenwood still, so that has to go on the self for six months to dry, during which time it warps, because wood always changes shape. Then it goes back on the lathe, and is re-rounded, and made thin and beautiful. That would take probably a couple of hours. And then the finishing, another couple of hours. If everything were added up together, about a day of hands-on work, and six months of sitting around, maturing."
Greenwood refers to when wood is fresh off the tree and still has moisture inside. When shaping greenwood, water flies everywhere. As it dries out over time, the wood warps, so before you can produce the final product, you need to wait for it to dry out.
The gallery will be hosting a Meet the Artist event with the wood turners on Friday, Oct. 13. Their work will be available for viewing at the gallery until early November.
An earlier edition of this article stated that the Meet the Artist event was on Saturday, Oct. 14. It is instead on Friday, Oct. 13. We apologize for the mix up.