County performs first reading of animal control bylaw
Posted on December 19, 2017 by Sunny South News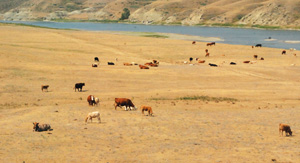 Sunny South file photo
By Nikki Jamieson
Sunny South News
Lethbridge County will have new regulations on animals in its boundaries in the new year.
During it's regular Dec. 7 meeting, Lethbridge County council discussed the proposed bylaw 17-008 — or the Animal Control Bylaw.
According to information in the agenda package for the meeting, the county does not currently have any regulations pertaining to keeping animals whose numbers are lower then the number regulated by the Natural Resources Conservation Board (NRCB).
As a result, in the past the county has encountered a number of situations where the number of animals on a property cannot be sustained and effects the quality of life for that property's neighbours.
To combat this problem, the county approved the creation of a project team to develop an animal control bylaw. A draft copy of the bylaw was discussed during council's No. 20 meeting.
Reeve Lorne Hickey noted several grammer errors, and raised a concern with section 6A of the bylaw, noting that it says "guilty".
"Aren't you presumed (innocent) before you're sort of guilty?" asked Hickey. "I was wondering if that was the right word for that."
Hilary Janzen, senior planner for the county, explained that a lot of the wording for the bylaw was taken from other animal control bylaws, along with the county's dog control bylaw. Although council could change the wording of the bylaw, she said that someone who "contravenes this is guilty", and is typical of other bylaws.
Another concern Hickey had was with 6F, in reference to tickets.
"It says 'a voluntary payment can be made as described', and then it goes on to say that he can get a ticket for not paying a ticket," said Hickey.
"If you're given a ticket and you shouldn't have been given a ticket, how do you appeal it? What's the process there?"
Hickey said that for him, it read liked "if you didn't pay the ticket you get a ticket, because you didn't pay the ticket".
Janzen said that community peace officers can issue a tag, which is the voluntary payment that goes directly to the county, and if the tag isn't paid, then the peace officers can follow up and issue a ticket, which goes automatically into the court system.
"The first is a voluntary payment to the county, and if they pay that, that's fine. But if they don't do that, then you issue a ticket, which then takes them into that higher judicial system, into the court system," said Janzen.
"You only have one ticket. There's a tag, and there's  a ticket — those are two separate terms. But there isn't a ticket to pay for a ticket, you only get one ticket."
Janzen added that they could change the language so it didn't read like it was "a ticket on a ticket".
Coun. Tory Campbell remarked tat he liked that the bylaw wasn't "punitive" for their residents.
Noting that their CPOs won't be going out and counting every animal on that property, Janzen confirmed that the bylaw was more to address complaints of people who were abusing the system, and giving them a mechanism to deal with those situations.
"I like the road we're going down," said Tory.
"If there is  a grievous violation, then I don't have a problem with it, but — and I think it was mentioned last meeting — if you have three-and-a-half acres, you can have three horses, and if you have two kids and four horses, as long as we are not being punitive to those situations — and I think we discussed it would be complaint driven — that would be my only concern I guess moving forward, in that kind of grey area. I just don't want it to be punitive to those people."
Janzen noted that the bylaw does say the county does have the discretion to enforce the bylaw, in cases such as the complaints are feud based.
Council unanimously passed first reading of the bylaw.
Coun. Steve Campbell asked if they could take a closer look at the number of animals allowed on  a parcel of land.
Coun. Ken Benson agreed, noting the numbers for some of the animals allowed seemed "a little low".
Coun. Morris Zeinstra noted that they could always rework the numbers later on, and coun. Ron Horvath pointed out that as long as a farmer would supplement feed for an animal depending how many were a what size of land.
Council unaminously tabled the second meeting of the bylaw, pending further discussion of the numbers. Benson and Horvath would join in on the discussion.