Collision send two to hospital with minor injuries, closes highway
Posted on April 17, 2018 by Sunny South News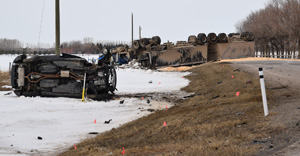 Photo by Nikki Jamieson
By Nikki Jamieson
Sunny South News
A motor-vehicle collision south of Coaldale saw a portion of Highway 845 closed for the majority of the day last week.
On Tuesday, April 10 around noon, a call came in to the Coaldale RCMP to report a collision at the intersection of Highway 845 and 512.
A black Lincoln MkV was travelling eastbound on Highway 512 when it collided with a semi-truck heading northbound on Highway 845.
The collision caused the Lincoln to be thrown into the northwest ditch and overturn, and the semi-truck to lose control and overturn into the west ditch on Highway 845 north of the Lincoln, blocking off the highway. The semi was carrying a load of feed corn when the crash occurred, and its contents were spilled across the highway and into the ditches.
The driver of the Lincoln was pinned in the vehicle and was extracted from it by the Coaldale Fire Department. She was sent to the Chinook Regional Hospital with minor injuries. The driver of the semi was also sent to the hospital with minor injuries as a precaution.
Due to the collision, Highway 845 was closed south of Cottonwood Drive in Coaldale down to the intersection of 512 until about 8:30 p.m. to allow for the removal of the Lincoln, semi-truck and corn. People travelling east or westbound on 512 were able to continue through the intersection.
The speed limit at that section on Highway 845 is 100 km/hr, and there is a stop sign on Highway 512 travelling eas and west-bound.
Coaldale RCMP staff sgt. Glenn Henry noted that the driver of the semi had the right of way, and urged people to pay attention to stop signs.
"It's 100 kilometers on 845 and zero on Highway 512, because they have to stop. Come to a complete stop and then proceed only when it's safe to do so," said Henry.
"Stop signs are there for a reason, it's for people's safety. And we certainly encourage everybody to come to a complete stop when they come to a stop sign, whether it's on a highway or in the Town of Coaldale, they're very important for your safety."