No public safety threat, injuries from Highway 4 train derailment
Posted on August 9, 2018 by Sunny South News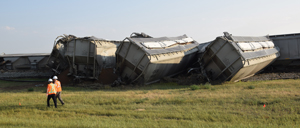 Sunny South Photo by Nikki Jamieson
By Nikki Jamieson
Sunny South News
Traffic was down to one lane traveling west-bound on Highway 4 while crews worked to move rail cars after a train derailment early last week.
At around 3:15 p.m. on Monday, July 30, a call came in of a CP Rail train derailing near the intersection of Highway 4 and Township Road 7-2. The rail had been traveling south on the rail lines adjacent to Highway 4, south of the junction with Highway 845, and was going around the curve when several cars came off the track.
Coaldale RCMP and Coaldale and District Emergency Services responded, and fire crews put out a small grass fire caused by the derailment. CP Rail Police then arrived on scene, and took over the investigation.
"We arrived on scene, and we noticed a train hauling what looked like canola, about 13 cars had derailed, come off the tracks," said Coaldale Fire Chief Kevin McKeown.
"We talked to the conductor and engineer, determined that there were no dangerous good on board, it was just grain cars that had come off the tracks."
The derailment had caused no threat to the public. No injuries were reported.
Coaldale fire crews remained on the scene and provided traffic control while clean-up commenced and the rail cars were moved. Township Road 7-2 was closed throughout the night to allow for the clean up. The crew left the scene at 7 a.m. the next morning after the last of the rail cars had been moved.
"We kept an engine on scene overnight just for fire standby. CP Rail was starting to move cars, cut the rail apart, It could produce some sparks and risk of further grass fires, so they wanted to keep a fire engine on scene just in case there was any fires that happened during the night."
McKeown noted that it was "pretty rare" for them to receive a call of a rail car to come off the tracks, and most of their train-related calls come from a vehicle collision with a train.
"Coaldale and District Emergency Services did an excellent job of ensuring the public's safety during this event," said county CAO Ann Mitchell in a statement on July 31, asking people to be careful around the area as the clean-up continued.
In a statement, CP Rail said the track had reopened at 9:30 a.m. on July 31, and there was "no injuries, no dangerous goods involved, and no public safety issues". The derailment is currently under investigation.
As of press deadline, there have been no updates to the investigation.