Bee Hive marks first year as non-profit
Posted on November 13, 2018 by Sunny South News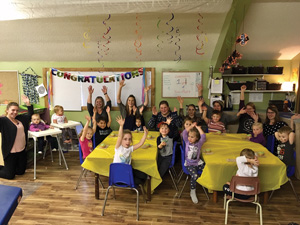 Photo submitted by Bee Hive Child Care Center
By Nikki Jamieson
Sunny South News
The Bee Hive Child Care Center in Picture Butte celebrated its one-year anniversary as a non-profit earlier this month.
Having previous served as a day home from 2002-2008 before becoming accredited as a child care center under the direction of then-owner Manna Middleton, in early 2017 it was decided to start the process of transforming the business into a non-profit, as it opened up the ability to apply for grants for the centre. The paperwork was completed on Sept. 1, 2017, and the daycare was officially transferred to the board of directors to run. Middleton took the opportunity to step back from the centre and pursue other career and educational opportunities.
To celebrate the milestone, the BCCC threw a party to celebrate, complete with cupcakes, which Amanda Zeinstra, treasurer of the board, reported the kids were "happy" about.
"They think it's the day care's birthday, so cupcakes are never bad," said Zeinstra. "I think probably, the best thing with the kids is that they didn't really notice any difference when it transitioned over, right? Because the staff stayed the same, the schedules stayed the same, so I think that's a bonus that it stayed the same for them."
While a board may run the daycare now, they take pride that the quality of the service and the kid's experience stayed the same.
One big challenge to starting over as a non-profit meant that in the beginning, the BCCC had to start over financially. Zeinstra said it was a struggle in the beginning to have very little funds in case something went wrong.
"It was challenging the first year. We had a lot of things to learn and figure out. Because we started from scratch, it was a bit tough financially, just to keep everything rolling the way kind of it had always been," said Zeinstra. "But I think it's exciting, because we survived the first year, so hopefully that's the worst and it's over and we can just keep growing and getting better."
"Starting off with zero funds that first year is hard, so when you don't have back up money to pay for things, then you get behind and stuff," said Nancy Stroeve, executive director of BCCC. "Being non-profit, there's a few things we learned along the way."
Zeinstra said that the financial side of things proved a challenge, as they had to get Worker's Compensation sorted out and had a few issues with utilities in regards to the name. Ultimately, it was all the "back-ground paperwork" they had to deal with in getting everything organized and sorted that proved to be the most challenging aspect of the change. However, now that they have ironed out those issues, they are confident that it will be smooth sailing for the next year.
"I feel like we've got everything figured out, everything seems to be going. Because there was issues just getting the banking set up — a lot of headaches, running back and forth. So, all that stuff is set up now, working smoothing, so yeah, the second year we can focus on improving activities and stuff for the kids. We got all the basics, the –have-to-get-done stuff is done, so now we can focus more on the fun stuff and operating it," said Zeinstra.
Stroeve said the community has been very supportive in the last year as the BCCC got used to the transition.
"I think us coming together as a board and really wanting this day care to move forward and really people investing in it, I think that's what is rewarding, because having such a small daycare in a town it's an amazing thing and it's a well-looked upon daycare," said Stroeve. "We have a good reputation, and the staff are amazing, the parents are amazing and the board members have stepped up and they're amazing. So I think that's what's been, we've come together, and I that's what I love about a small town."
The daycare serves the Town of Picture Butte as well as the surrounding communities. Although they are less expensive then some Lethbridge alternatives, they recognize childcare is a significant cost for families, and are looking to keep their costs low and build up a rainy day fund.
Moving into their second year, the BCCC board is looking at grants to apply for and for community members to invest in the daycare. Letters have already been sent out asking for community members to do so, and those who do will have their names displayed on their donation board in the entrance of the daycare.
BCCC will also have a renewed focus on getting kids playing, with Nancy noting that the community is great for allowing them to use facilities for it, and they're also looking to purchase some outdoor equipment of their own.
"We really want to focus on getting kids back to play. Learning through play is the most important part, so we'll really focus on that and loose parts and the importance of why children really need play to learn," said Stroeve. "We're excited for this year coming up, where we're going to keep growing in that area."
In addition to keeping kids playing, the daycare is committed to providing homemade, nutritious meals and snacks and providing a family-oriented environment. Kids are encouraged to bring a family photo to hang on the wall and their parents/care givers are welcomed to visit and ask questions and keep staff informed of what else is going on in their child's life.  The BCCC also tries to send out daily updates to parents/care givers of what the children are doing and experiencing during the day.
They are also looking to taking on more kids at the daycare. Coinciding with the beginning of the school year, the daycare saw some of their kids graduate to attend elementary school full-time. Zeinstra said that this year, the schools in Picture Butte had the "they had the biggest kindergarten class ever".
BCCC has a maximum occupancy of 54 children, and currently has 13 full-time and 16 part-time children registered.
"Being in a small town, our town is amazing, but it is a small town so it's harder to pick up children," said Stroeve. "We're very unique in that we allow part-timers, and we do have some full-timers, but the majority is part-time, so that's where we do struggle."
Anyone interested in finding out more information about or contributing to the daycare, can call (403) 732-4051, email beehiveccc@hotmail.com or visit their Facebook page at https://www.facebook.com/BeeHiveChildCareCenter/.