Groundbreaking ceremony held for Coaldale firehall expansion
Posted on December 18, 2018 by Sunny South News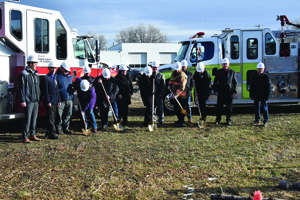 Photo by Nikki Jamieson
By Nikki Jamieson
Sunny South News
With the groundbreaking ceremony going last week, you can say that construction on the Coaldale firehall expansion has officially began.
Although construction teams aren't expected to begin the actual work until early 2019, officials and members from the Town of Coaldale, Lethbridge County, Palliser Regional School Division, the Volunteer Firefighters Association and the province took advantage of the nice weather on Monday, Dec. 10, to host the groundbreaking ceremony for the firehall.
"It's great to finally see this day come where we can do the sod turning for the new fire hall, and what this really indicates is the significance of the Coaldale Emergency Services," said Coaldale Mayor Kim Craig.
"We have volunteers that actually volunteer to come and do it, and then to have them risk their lives after the fire by not having the proper facility is kind of a bad message to be sending, right? So having that, is a really big load of our mind and makes sure our service understands that we really value what they do. And the area of Coaldale has always been strong supporters of our fire department and the volunteers services, so I believe that they all feel it's well worthy and well overdue to have this happen."
The $3.9 million project will include: the construction of 84,000 square feet of new garage bays east of the firehall, including new parking spaces for equipment, ventilation and filtration of hydrocarbons from the garage area, infrastructure for industrial washing of bunker gear, oversized doors to accommodate new and incoming apparatus and storage; renovating the existing fire hall to create office space, a refurbished kitchen, multi-purpose training and meeting room and sleeping quarters; and a two-story breezeway to integrate the existing fire hall to the new bays, and the first floor will serve as the main entrance, while the second would house the new emergency operations centre and the training facility for the joint-credit fire academy they will be running with Palliser.
"We all demand better services everyday that we come to work and come to play, and I think with the addition of this new building, it emphasizes the safety to the men and women who volunteer as firefighters," said Lethbridge County Reeve Lorne Hickey.
"Making sure they have a safe place to store their vehicles, store their gear, and make sure the fumes from the exhaust don't bother them anymore, I think that's the greatest thing about this whole thing."
Coaldale fire chief Kevin McKeown said the project had been "much anticipated", and emergency services couldn't wait for its completion.
"We started planning this very early on in 2017," said McKeown. "It's a huge relief; it provides a higher level of safety for all of my firefighters. So, having a proper diesel exhaust removal out of the bays — big, big bonus for our people. As well as providing space for an industrial washer and dryer so we can wash our bunker gear, get those carcinogens off our gear after every fire. So, much safer working environment for our firefighters."