Exhibition Park partnering with the Lethbridge Lodging Association
Posted on January 22, 2019 by Sunny South News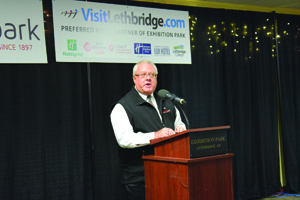 Sunny South Photo by Nikki Jamieson
By Nikki Jamieson
Sunny South News
Exhibition Park announced last Wednesday that it has entered into a major strategic partnered with the Lethbridge Lodging Association.
In a media event announcing the partnership, Doug Kryzanowski, marketing manager for Exhibition Park, said it would develop a base to establish Exhibition Park as a major meeting and conference facility in Southern Alberta, the LLA Member hotel properties and Lethbridge as a destination.
"It allows Exhibition Park to promote our current facilities, and potentially a new facility in the future," said Kryzanowski.
Exhibition Park's six buildings — Heritage Hall, West Pavilion, North Pavilion, South Pavilion, Main Pavilion and the Saddle Room  — currently hosts over 1,550 rental nights per year with more then 570 clients.
Kryzanowski said that when planning conferences, planners are often looking three to five years out, something they had been remiss in catching.
Noting that the competition is "quite fierce across Canada", Kryzanowski said that Lethbridge could market itself as an affordable conference city, and they hope to get other properties involved.
"Our message going forward to conferences across Canada, will be we are in the business, if you will," said Kryzanowski.
"The message to me, over this negotiation, has been unification of some of these properties in Lethbridge that we have to start building too. Some of the people just playing independent isn't going to fly for the total concept that we want, and hopefully, this will give some initiative to people coming together and joining us, everyone in a group, tourism properties, as well as meeting and conferences."
LLA is an association of Lethbridge accommodation properties working together to increase overnight stays for member properties, and aims to strengthen the Lethbridge economy by partnering with and collaborating closely with organizations to create new and sustainable tourism opportunities.
"Our main mandate is to market Lethbridge as a destination and Lethbridge Exhibition is a fantastic partner because we align in terms of wanting to bring leisure, as well as corporate visitors to town," said Shilpa Stocker, project manager for the LLA.
"The Lethbridge Lodging Association and its member properties have been sponsoring events, supporting events at Lethbridge Exhibition for at least a decade, and over the last six months, we decided it will be good to formalize that strategic partnership."
Stocker said the area had a lot going for it, given the traffic at the Lethbridge Airport and new potential facilities at Exhibition Park, leading LLA to decide formalize a three-year strategic partnership with Exhibition Park so they could take advantage of what Lethbridge has to offer.
"We are finding that we are getting a lot of requests, even through the Lodging Association, of groups wanting to come to Lethbridge, so new facilities would absolutely help us land the kind of groups that we do want to come. Right now, we've got great assets in terms of the regional market, as well as Western Canada, and that's what we're going to focus on for the time being."
Exhibition Park will be crossing over their events and social media to LLA's website, visitlethbridge.com, which allows visitors to book hotel rooms online,  view a list of activities and events to attend and get information about Lethbridge as a destination.