Picture Butte hosting fundraiser for pool slide
Posted on March 12, 2019 by Sunny South News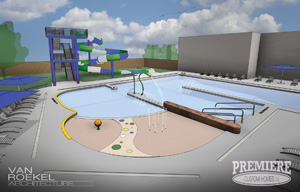 Graphic submitted by the Town of Picture Butte
Nikki Jamieson
Sunny South News
The Town of Picture Butte will be hosting a fundraiser for the new community pool.
The April 5 Dive in & Make a Splash fundraiser aims to raise enough money for a six-metre tall slide to be installed alongside the pool. It will make up part of the new facility that will replace the old pool and building, which were demoed last December.
"The facility was 54 years old and deteriorating," said Cathy Moore, Picture Butte mayor. "It had completely outlived its lifespan, and the pool was not meeting the current codes for the aquatic centre in a number of areas. So council had decided that rather then putting more money into it, it was time for a new one."
The town had also received a lot of community feedback, on how the facility wasn't meeting their needs or wants, and residents were going outside of the community for their pool needs.
"Before, it was just a rectangle box. It wasn't a great place for anyone to sit and bring families down. It was purposeful, but it wasn't very user-friendly," said Keith Davis, CAO for the town.
Additionally, as two major renovations had already been done on the pool, the town decided to build a new one instead of putting more money into the old one.
An open house was held in June 2018, where people reviewed and voted on three different pool designs.
Feedback overwhelmingly indicated preference for option C, which expanded tots area, beach entry and a mini splash-pad, with an estimated cost of $3.7 million. In addition to the pool itself, a new pool building will be constructed.
"We've built this building so it's going to last. It's made out of pre-fabricated concrete walls, so it's not just a stick-built building, like where it's just drywall and framing," said Davis. "The pool is a concrete pool as well. With our last pool, it lasted 50, nearly 60 years, so we're building it so it will last. The town could have gone down a cheaper option, and build something that would have been cheaper, but, we really debated about the value for investment, we thought that building a concrete pool, and this kind of pool house, that's got the pre-fab concrete walls, was going to just be a lasting legacy that's going to be in the community for the next 50, 60 years."
The pool tender was awarded to Premiere Custom Homes, a local contractor, and they will be using Master Pools to construct the new community pool. A prominent community member, Cor Van Raay, had donated $1 million towards the cost of building the new pool in September, and VRP Farms donated land next to the community centre for the new pool. The town is also exploring grants to help fund the cost of the pool.
The town hopes to raise the $310,000 needed for the slide in a community fundraiser taking place on Friday, April 5, at the North County Recreation Complex. Picture Butte coun. Cynthia Papworth said that the fundraiser means to "bring the community together and help raise some funds that we do need to help with this".
"Our community will come together in support of an idea or a new build or something in the community," said Papworth. "It's been a long time since we had a great fundraiser in the community, and I think this will pull everybody together."
"We don't want to borrow the money if we don't have to, and if we can raise the money, without having to go to the bank, we're much better off that way," said Moore. "The Town of Picture Butte is a community of 1,800 people, but will be servicing the county as well.
"We're hoping the county and everybody else will come in, the people in the county, and help us build this. And by doing that with the fundraiser, and by selling tickets for the fundraiser, the dinner, coming out and supporting our auction and building on them, we'll be able to raise money that way, and not have to borrow. And then it won't cost our taxpayers money."
Papworth said they decided to raise the money specifically for the slide to have an item people can work towards and see that it does cost a lot of money to build.
"I think if we just said it was for the pool project, and not just one specific thing, them there's no end in sight. It could be $3 million could be our goal, where this gives it a finite goal," said Papworth. "If we reach it, we would be ecstatic, if we get half of it, we'll be jumping."
Moore noted that people will see how expensive pools are to build, and some may balk at the price tag. However, the feedback they got from the open house said that "one of the first things they asked for, was a slide", so they're hoping to raise the money to pay for it.
The fundraiser will have two parts. The first part will take place from 11 a.m.-4 p.m. on April 5, and will be a kids fun day, while the second part will start at 5 p.m. with a gala evening.
"There'll have hotdogs and family games, and bouncy castles. So the family can bring candy bags, families can bring their kids out," said Moore. "We'll do a family type deal during the day, but in the evening, it's adults."
As alcohol will be served during the evening, it is aimed towards adults. Moore says the fundraiser will have "something for everybody".
Duelling Pianos and the Reiter Family will be providing entertainment. Tickets for the dinner cost $50, with cocktails being served at 5 p.m. and dinner starting at 6 p.m. There will be a silent and live auction. On the Thursday before, people will be able to view the items available at the silent auction at the rec centre. Some of the items available for the live auction include manure hauling, cattle hauling and fly-ash concrete.
The live auction will start at 8:30 p.m., and is open for all to attend. There will also be a 50/50 draw and Chase the Ace.
Tickets are available at the Picture Butte Town Office, Scotiabank, G&E Insurance and ATB.  People can also call 403-635-2037 (Cynthia), 403-393-4623 (Cathy) or 403-317-5849 (Leanne) for tickets or further information. The cut-off date for ticket sales is March 29.
The pool is expected to be open by the summer of 2020.