2019 Alberta Election results
Posted on April 16, 2019 by Sunny South News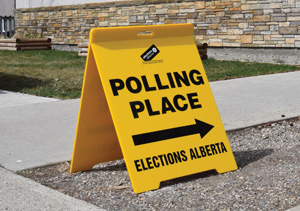 Sunny South hoto by Nikki Jamieson
Results for Taber-Warner and Cardston-Siksika Ridings
Sunny South News
Updated: April 22, 9:13 a.m.
The UCP will form a majority government.
The UCP has won 63 ridings, allowing them to form a majority government under Jason Kenney. The NDP won 24 ridings, and will form the official opposition. There are 87 ridings represented in the Alberta Legislative Assembly, and no other party has won a riding.
A record number of about 696,000 people voted in advance polls, and total voter turnout was 71 per cent.
Cardston-Siksika results 
Ian Donovan (Independent): 728, 4.5 per cent
Casey Douglass (Alberta Party): 589, 3.6 per cent
Jerry Gautreau (Freedom Conservative Party): 206, 1.3 per cent
Cathleen McFarland (Alberta Liberal Party): 174, 1.1 per cent
Joseph Schow (United Conservative Party): 11,981, 73.6 per cent
Kirby Smith (NDP): 2,278, 15.9 per cent
Total votes: 16,259
Taber-Warner results 
Jason Beekman (Alberta Party): 1,442, 7.9 per cent
Grant Hunter (United Conservative Party): 14,325, 78.2 per cent
Laura Ross-Giroux (NDP): 2,358, 12.9 per cent
Amy Yates (Alberta Liberal Party): 204, 1.1 per cent
Total votes: 18,329