Coaldale-Lethbridge Community Growing Project gets early start
Posted on April 23, 2019 by Sunny South News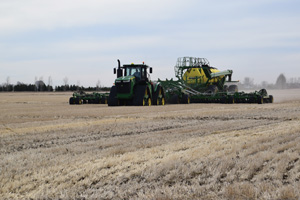 Sunny South file photo.
By Nikki Jamieson
Sunny South News
The Coaldale-Lethbridge Community Growing Project has finished seeding for this year's crop.
The growing project was able to start seeding 115 acres of feed barley last week in a field northwest of Coaldale on Tuesday, April 16, a week ahead of schedule.
"The ground is the right condition, and if we get a rain after this, we're laughing," said Edgar Dueck, chair of the Coaldale-Lethbridge Growing Project committee.
"The earlier the better; it's always better early. So as soon as the ground is mellow enough to seed in, we like to seed in."
Dueck said the harsh weather in late winter wasn't a cause for concern for the growing project, as they were more concern about whether the ground would be too wet for seeding.
However, the ground was dry enough, and they were able to go ahead with it.
Once the land is seeded, herbicide would be applied to kill any weeds growing on the site. Throughout the next few months, the growing project's members will perform regular crop management, and in approximately 110 days, or in early August, they expect to harvest the feed barley they planted.
The feed barley will be sold to various feedlots at the Mennonite Central Committee Relief Sale and Auction, which will take place June 1.
"Usually we get a premium price for it because the feedlot owners are generous enough to give us a premium on this barley," said Dueck. "Usually, (we'll make) about $150,00 on this quarter."
Dueck thanked the companies and volunteers involved with the growing project.
"There's many, many people on board on this project. We can't say that enough; there's a lot of people on board," said Dueck.
"(Foodgrains is) one of the 10 best charities in Canada. It's listed in the 10 best charities because government matches this fund about 3:1, and there's very little overhead."
He said one of the places the money would go to help this year is Mozambique, which was recently devastated by Cyclone Idai.
"It's a very, very efficient charity, and the money goes to various (projects). For instance, it will go to Mozambique," said Dueck.
"There will be people there that will be buying local products with this money and helping the people in Mozambique right now. That's just one example, there's probably, there's got to be hundreds of projects worldwide."
The Canadian Foodgrains Bank is a partnership of 15 churches and agencies with the focus on ending hunger world-wide. In the 2017-18 budget year, they provided more than $37 million to help more then 800,000 people in 34 countries.
Growing Projects support the foodgrains bank by growing and harvesting a crop, selling it on the Canadian market and donating the proceeds to the food grains bank. This money is then used to help combat world hunger.
For more information, visit foodgrainsbank.ca.