CDES respond to high number of calls
Posted on April 30, 2019 by Sunny South News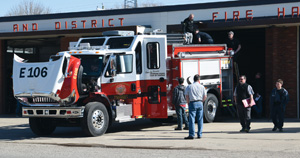 Sunny South Photo by Nikki Jamieson
By Nikki Jamieson
Sunny South News
The Coaldale and District Emergency Services were busy last week responding to an unusually high number of calls.
Within a five-day period, as of noon on Friday the department responded to a total of six fire calls and two motor vehicle collisions.
In a Facebook update posted on Sunday evening, that number was updated to eight fire calls, two motor vehicle collisions and three delta medical assists.
"Fire calls tend to come in waves, however the past week has been higher than what we would normally expect," said Coaldale Fire Chief Kevin McKeown in an interview on Friday.
On April 22, the CDES responded to calls for a vehicle fire and a motor vehicle collision.
On April 23, CDES, along with the Picture Butte Fire Department who responded as mutual aid, responded to a bale and and structure fire in Lethbridge County.
The fire was the result of an unsupervised controlled burn, and wind that day was a contributing factor to the rate of fire spread, which damaged three buildings. CDES also responded to a motor vehicle collision that same day.
On April 24, CDES responded to a tractor fire, an accidental fire believed to be caused by a hydraulic fluid leak while the tractor was driving.
On April 25, CDES responded as mutual aid with the Lethbridge Fire Department to a grass fire, which was the result of an unsupervised controlled burn. CDES responded to two more calls regarding open fires that day, a backyard fire in Coaldale and a smoke investigation near Chin.
On April 26, they responded to a false alarm at McDonald's.
On April 28, they received a call for assistance from the Picture Butte Fire Department at 5:30 a.m. for a large hay bale fire. CDES sent out their water tender and two members to help fight the fire, spending a total of eight hours from start to finish fighting the fire.
McKeown urged landowners to be responsible when conducting open burns, follow the guidelines of their burning permits and check both the short and long-term weather forecasts prior to starting the burn, noting that winds shouldn't be over 15 km/hr when burning, and temperatures shouldn't exceed the relative humidity.
"When the temperature is higher than the relative humidity it is termed crossover. This condition leads to fuels that are more easily ignited, and when there is wind it results in rapid fire spread," said McKeown.
"I also encourage people to call 911 as soon as they think they cannot control the fire themselves."