Coaldale RCMP make arrests in graffiti mischief case
Posted on May 7, 2019 by Sunny South News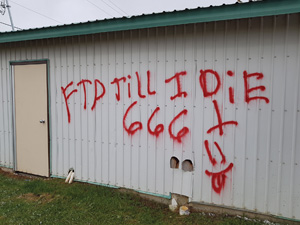 Sunny South Photo submitted by the Coaldale RCMP
By Nikki Jamieson
Sunny South News
Coaldale RCMP have made some arrests in their investigation of a series of graffiti mischiefs in Coaldale.
The RCMP had received calls on Wednesday, May 1, of various buildings at the Quads, the Coaldale Arena, the Senior Centre, St. Joseph's school and the Coaldale Mennonite Church being tagged with spray paint graffiti.
The person(s) responsible had did this overnight and used various colours of spraypaint.
The graffiti featured anti-police ideology, and the majority of the graffiti was tagged with the alias 'ACE'.
"As people came to work or their place of worship or their school, they noticed the graffiti and called us," said staff sgt. Glenn Henry of the Coaldale RCMP.
"This seems to be very random, but obviously, we take it very seriously, because there is a lot of time and effort required by the property representatives to clean up their buildings."
With the help of a local business, Coaldale RCMP were able to identify two persons of interest, along with a truck, and put out a release last Thursday asking the public to contact them with information that can help identify them. Based on the media releases and the prompt assistance from the public, the two persons of interest were positively identified over the weekend and arrests have been made.
Two Coaldale men, Matthew Dubois-Pakins and Keegan Anderdon, have now been charged with five counts each of Mischief – Contrary to Section 430(4) of the Criminal Code of Canada.
Both men are scheduled to appear in Lethbridge Provincial Court on June 12.