Mock train derailment exercise in Coaldale goes May 28
Posted on May 28, 2019 by Sunny South News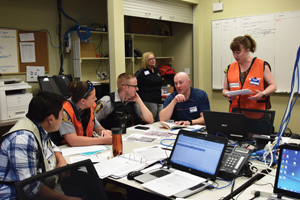 Sunny South Photo by Nikki Jamieson
By Nikki Jamieson
Sunny South News
A mock train derailment exercise will be going Tuesday in Coaldale.
In partnership with CP Rail, the Town of Coaldale will be undergoing an exercise for a a full-scale train derailment with hazardous materials, which will be conducted in the area  of 18 Avenue and 22 Street, on May 28.
Some of the town's mutual aid partners, such as Lethbridge County and the City of Lethbridge, will also be taking part.
"These exercises are important, as they allow us to test our Emergency Management Program as well as our interoperability. An exercise such as this allows us to respond to an incident as if it is really occurring and manage it in real time," said Clayton Rutberg, deputy fire chief of public safety for Coaldale.
"These types of exercises are also common practice for municipalities as they are a legislated requirement to ensure the Emergency Management Program is maintained."
The exercise is intended to allow the Town to test its emergency management planning and training, and is partially funded through the province's Emergency Management Preparedness Program Grant.
The town stresses that the event is a mock exercise and not a real emergency.