Delegation urges Coaldale town council to reconsider Site A
Posted on June 11, 2019 by Sunny South News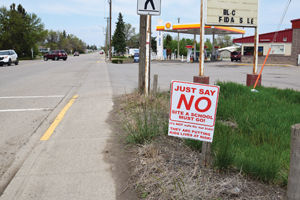 Sunny South photo by Nikki Jamieson
By Nikki Jamieson
Sunny South News
A delegation of local residents appeared before Coaldale town council with safety concerns on the location of the proposed rec centre and new high school.
During their regular May 27 meeting, Coaldale town council met with a delegation voicing concerns over the proposed rec centre and high school in northwest Coaldale.
Lindsey and Kyle Frache informed council of their opposition to the northwest location, citing concerns over safety and a lack of community support for the project.
"Everybody here is opposed to Site A (the northwest location) for several different reasons," said Kyle.
"My main reason to be here today is, as you can see, I have four young daughters that will be possibly participating in the high school that's in Coaldale. My main thing is the public safety was disregarded here, on the choice of public, on the choice of Site A."
In June 2018, the Town of Coaldale and Palliser Regional School division decide to pursue building a joint new high school and rec centre.
In September 2018, the Town of Coaldale and Palliser Regional School Division learned the province was hosting a Value Management session for the evaluation of a new high school in Coaldale in late October, that could result in an earlier funding announcement.
Rather than declining the opportunity  — and risk the province evaluating another school and having to wait five years for an announcement — the town decided to put together a proposal to meet the short timeline and stay in the running for a potential earlier new school announcement.
This meant the site selection process for the two facilities did not follow the typical process, which includes community consultation, as town council had to make a decision on the site fast.
The $38 million is the estimated price tag for the new high school, which the province will be funding. The rec centre, which the town would be funding, is estimated at $10 million.
As the school and rec centre are going on the same site, town CAO Kalen Hastings said there were opportunities to share costs, co-design and co-construct common spaces, such as the parking lot and gymnasium space.
"Anytime an opportunity presents itself, Council has three options to choose from: yes, no, or not now.  When Palliser Regional Schools presented the opportunity of a new high school and grade reconfiguration package to Council, administration was instructed to jump in with both feet to pursue this opportunity, because of the significant community need it would fulfill," said Hastings in a follow up interview. "While a new high school was not on the town's radar prior to 2017, Coaldale's desire to grow north – and the infrastructure upgrades required to facilitate this growth – had been in the planning stages since 2014.  The 'eureka moment' of combining a new high school with a recreation facility on land (Site A) that had long been contemplated for development (Site A) occurred in fall, 2018."
However, Site A has proven controversial, with residents citing concerns over safety, traffic and the lack of public consultation when choosing the site.
"It just doesn't make sense. Eighty per cent of the population's children crossing four lanes of traffic on Highway 3, with 18,000 plus vehicles travelling that corridor daily," said Kyle. "On top of that, they have to cross a very, very busy CP Rail, just in order to get to school or participate at the rec centre. Why didn't the parents have a say in this matter?"
According to a spokesperson from Alberta Transportation, collision data for the intersection at Highway 3 and 30 Street shows the collision rate to be lower than intersections with similar traffic volumes. Between 2012 and 2016, there were 12 collisions at this intersection, with three injury collisions and nine property damage collisions, with no fatalities reported. The Highway 3 and 20 Street/Highway 845 intersection has a slightly higher collision rate than average, and saw a total of 26 collisions between 2012 and 2016, according to Alberta Transportation. Of those, five resulted in injuries and 21 in property damage only, with no fatalities reported.
The town, in collaboration with CP Rail, plans to install a fence along Highway 3 between the 30th Street and past the Highway 845 intersection, to encourage people to use designated crossings. The town will also be installing pathway expansions on the north and south sides of the highway, and connecting them with improved at-grade crossings and a pedestrian overpass, with the latter's location to be determined. Hastings also said that the town has been in active discussions with Alberta Transportation, CP Rail and Transport Canada, and and have been developing infrastructure upgrades, such as a fully signalized 30th Street and Highway 3 intersection, and safety improvements, such as reducing the speed limit from 70 km/hour to 50 km/hour.
Thanking the Fraches for appearing before council, Mayor Kim Craig said they could all agree that they all care about the community, and their safety concerns about the highway and railway have been noted.
"I will ensure you are provided with detailed information about the transportation upgrades and corresponding funding models we have developed to address these concerns," said Craig. "We also have comprehensive information on the storm water and underground infrastructure elements of the project that we are please to provide."
Craig assured that they won't be breaking ground for the joint high school rec centre project "as we consider you concerns", and they look forward to provide feedback on their concerns at their June 10 regular council meeting. Kyle asked council if "Site A was a go", regardless of what residents say, to which Craig replied "We haven't made the decision yet."
However, at their regular June 10 meeting, Craig said that he "mistakenly answered no", as their 2019-21 Capital Budget was passed naming Site A as the proposed high school and rec centre location. Although the rec centre is to be funded by the town, the future of the high school "is not certain until a funding announcement is made" as it will be funded by the province, and he apologized for any confusion his response had caused.
After the delegation left during the May 27 meeting, council unanimously passed a motion that council direct administration to provide comprehensive responses to the questions or statements identified by the delegates in the form of a written staff report and presentation, further that staff report be presented to council at the next regular council meeting of June 10, 2019. Coun. Jacen Abrey was absent from the meeting.