Summer construction start for Coaldale RCMP building
Posted on June 25, 2019 by Sunny South News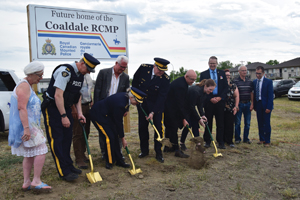 Sunny South Photo by Nikki Jamieson
By Nikki Jamieson
Sunny South News
Construction will start this summer on the new Coaldale RCMP detachment building.
On June 10, a sod turning ceremony was held for the Coaldale RCMP detachment building.
"This event has been in the making for a number of years," said staff sgt. Glenn Henry, detachment commander for the Coaldale RCMP. "We're all excited to make the next step of building a new modern, full service RCMP building in Coaldale."
Construction on the new detachment is expected to begin in July/August, with an estimated completion date in 2021.
Mayor Kim Craig said that he had recently met with a RCMP officer who referred to the division as SAD — Southern Alberta District — and thought that they should now refer to the region with something a bit more positive, now that construction on the building will happen soon.
"It's going to bring a lot of economic activity to the town, it's going to centralize the police service to our town," said Craig. "We engaged the RCMP in 2016, and now we're almost in mid-2019, and finally, the construction is going, so we're, reality is happening. So, it's a big relief to see it actually happening."
RCMP began policing Coaldale in January 2016,  and have been operating out of part of the town office. The town and RCMP have been working together on the detachment building since then, and a site dedication ceremony was held in September 2017.
"The RCMP is invested in modernizing through advanced, efficient and innovated policing techniques and strategies, and all this begins at the community level," said A/Commr. John Ferguson, Criminal Operations Officer CORE, "K" Division for the Alberta RCMP.
"Having a strong presence in the community is an important aspect of police work. To be effective, we need to understand the challenges of those that we serve, and we can only do that by having a presence in the community."
Once the new detachment is completed, they, along with officers working out of the Lethbridge RCMP building, will move into the new building. In addition to the existing members of the Coaldale RCMP, the new detachment will house regional and specialized units, such as police dog, forensic identification and traffic services.
"As the district commander for southern Alberta District, I cannot tell you how excited I am that we are finally at this point, to officially breaking ground for the new Coaldale RCMP detachment," said C/Supt. Bernadine Chapman, RCMP district officer for southern Alberta. "This new detachment allows all employees and members to work out of one location, providing a high level of policing service to the communities we serve, and will no doubt be the cornerstone for the surrounding communities for years to come."