Show and Shine at Coyote Flats
Posted on July 2, 2019 by Sunny South News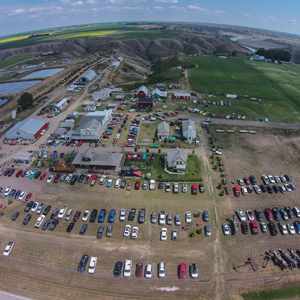 Sunny South Photo Submitted by Tony Kok
By Nikki Jamieson
Sunny South News
Cars will be descending upon Coyote Flats this Saturday for a car show.
A Show and Shine will go July 6 at the museum.
"It's a lot of fun, number one — it's a lot of work, but it's also a major fundraiser for us," said Murray Williams, general manager at the Prairie Engine Tractor Club and Museum.
Williams said that what makes this Show and Shine unique compared to others in towns across southern Alberta is the location, as the different cars will be displayed among the different building exhibits on the site.
"This is going to have cars placed amongst our (buildings). Some of these buildings are turn of the century buildings, so we've got tractors, we've got steam engines, we've got all kinds of farm implements, horse drawn and early tractor-drawn implements positioned all around the place, so it isn't just a Show and Shine, people can walk through all the exhibits."
In addition to viewing the different vehicles, attendees will also have access to the different building around the site, such as the school room, church, RCMP barracks and print shop, which offer a glimpse of life in the early 20th century.
"We're going to have the  exhibits open and we're going to have people sitting around these exhibits that will be able to give some explanation to people."
The museum will be serving breakfast from 8-10:30 a.m., and lunch from 11:30 a.m. to about 3 p.m., and as always, their popular ice cream shop will be open.
This year, they hope to improve traffic management with people directing cars on the highway, with Williams noting that has been "relatively difficult to get in and out" throughout the years.
Attendees will also be able to cast votes for their favourite vehicle.
In addition to the drivers deciding on the first, second and third place winners of the show, audience members will also be able to elect the first, second and third place cars, by way of a special ballot they'll receive when they arrive.
And of course, people can expect some great prizes through giveaways.
"We have quite a few sponsors from Picture Butte that are donating everything from free lunch to tools and emergency kits for cars and so forth; we're going to give those to spectators on a sort of like a 50/50 ticket," said Williams.
The Show and Shine will go from 8 a.m. to about 4:30 p.m. at Coyote Flats.
"If you discount every single car —which you have to see if you're a car fan —but the place is fantastic, it is absolutely unbelievable. We have lots of people come through here, that liken it to Heritage Park in Calgary, except it doesn't cost you $50 to go in."