Nobleford Heritage Day goes Saturday
Posted on July 16, 2019 by Sunny South News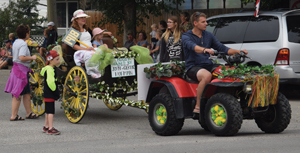 Sunny South File Photo
By Nikki Jamieson
Sunny South News
Heritage Day this year will have something for everyone.
The event in Nobleford goes Saturday, July 20.
"Heritage Day in Nobleford is just a very great opportunity for us to celebrate our community, the people who live there and the businesses that are also in the town," said Melissa Jensen, secretary-treasurer for the Nobleford Heritage Society.
"It's a great summer event."
Compared to last year — when the Town of Nobleford celebrated their centennial — the festivities this year will be on a smaller scale, but Jensen assures that a wide variety of activities will be available for people to enjoy.
Heritage Day kicks off at 8 a.m. with a free pancake breakfast, followed by the Candy Parade. Parade participants are asked to line up at 10:30 a.m. at the Richardson Pioneer parking lot on Railway Avenue, and the parade will start at 11 a.m.
Following the parade will be lunch at the firehall and some food trucks will be out as well.
The afternoon will feature activities such as horse rides, inflatable activities such as a bouncy castle and obstacle course, bench fair and a vendors market.
"We are doing a Market in the Park — that's new to Heritage Days, but they did have a Farmer's Market type-thing last year — so we're hoping we'll have a little bit of success with that as well," said Jensen.
"This year, something that's new is we have the Bridge City Highlanders, and they are going to perform in the parade, and they are going to do a demonstration after, so we're really excited about that."
Another new feature at Heritage Days is a performance by local classic/new rock and roll cover band Good Time Charlie, who will be performing in Centennial Park.
Jensen said that Heritage Day is a great family event.
"We've got things for all ages, you know we got some food trucks coming, we've got live music, it's just going to be a really great day of entertainment and fun."