Insect Discovery Day goes Saturday
Posted on July 30, 2019 by Sunny South News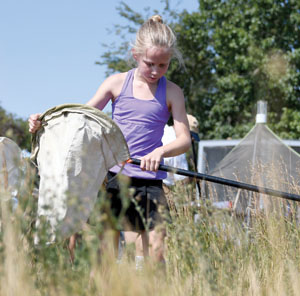 Eight-year-old Aliyah May walks the field looking for bugs at the Alberta Birds of Prey Centre in 2019 during Insect Discovery Day. SSN FILE PHOTO
By Nikki Jamieson
Sunny South News
Bug lovers rejoice: Insect Discovery Day is back at the Birds of Prey Centre in Coaldale this Saturday.
"It's just a way for us to celebrate the outdoors and just expose children and families to some other benefits of nature and the outdoors at the centre that we have to offer," said Colin Weir, managing director of the BOP.
Insect Discovery Day started about 10 years ago, when the Entomological Society of Alberta held their annual provincial meeting in Lethbridge, and they had asked Weir to put on a presentation.
"I just talked about the centre and how our knowledge about nature was very narrow and limited," said Weir.
"Our facility's a tremendous learning resource and outdoor classroom, but we didn't have a lot of training and expertise to introduce other aspects of the centre to children. And so, they actually came up with the idea and offered to do this event, just, you know, basically it's turned it into a once-a-year tradition at the centre."
"They really enjoy meeting the public, and inspiring young minds. And many young children have an intense interest in insects, and so this is a great way for them to be introduced to the world of the whole science of bugs and nature."
A addition to a host of entomologists ready to answer any bug-related questions you might have, Insect Discovery Day activities include pond dipping, butterfly catching and viewing displays of strange bugs from around the world.
You can even bring in bugs from around your home or farm to have them identified.
"It's not only interesting for children, but for adults, because quite often, we've all had different experiences, sometimes at home either in the house or in the yard when we see different types of bugs and we wonder what the heck is that," said Weir.
"So these are the people who can answer your question about the type of bug, type of insect it is, and what role it is, those sort of things."
The centre will also be holding their regularly scheduled bird flight demonstrations, duck feeding and opportunities to hold owls.
Insect Discovery Day runs Saturday, Aug. 3, 11 a.m.-3 p.m. at the Birds of Prey Centre. The centre will also be opening during its regular hours, 9 a.m.-5 p.m.