Coalhurst Miners' Days goes Aug. 9-10
Posted on August 6, 2019 by Sunny South News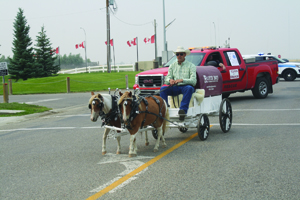 Sunny South File Photo
By Nikki Jamieson
Sunny South News
Expect some good family fun in Coalhurst this weekend as Miners' Days kicks off.
In addition to being a fun event for families, the past few years have seen the event honouring the town's past.
"It's celebrating the history of Coalhurst as a mining town," said Gail Shaw, committee member of the Coalhurst Miner's Days Historical Association.
"Basically, just brining the community together to celebrate."
Shaw noted that they have been working on incorporating some historical aspects into the event, and the association is looking into building stuff such as a broad walk, to help highlight the history of Coalhurst.
The two-day event starts on Friday, Aug. 9, at 6 p.m., with a free family dance at the Coalhurst Community Centre.
"On Friday night, we used to do a beer garden, and this year we are doing a family dance with a local band, DNR."
There will also be a silent auction, 50/50 draw, smokies and perogies to eat and other fun activities.
A pancake breakfast kicks off Saturday's events starting at 8 a.m. at the community centre, for a cost of $2, kids six and under eating for $1.
The parade starts at 11 a.m., and afterwards the festivities continue at Miners' Memorial Park. New to Miners' Days this year is games of laser tag.
"(We've) added laser tag, just to kind of bring something in more for the young adults or teenagers, something to do for them."
Other activities include a show and shine, bouncy castles, petting zoo, toonie pony rides, and a CVFD slip and slide.
A beer garden and food trucks will be on site to offer refreshments to attendees.
"It's so much fun. we just have something for everybody."