Jamboree Days and Harvest Days goes this weekend
Posted on August 13, 2019 by Sunny South News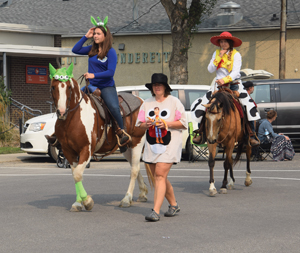 Sunny South File Photo
By Nikki Jamieson
Sunny South News
Expect twice the fun this weekend in the Picture Butte area, as Jamboree Days and Harvest Days festivities get underway.
"Jamboree and Harvest Days are a wonderful opportunity for both rural and urban citizens to celebrate the things that make Picture Butte and surrounding area a wonderful place to live, work, play and grow," said Megan Van Schothorst, secretary for the Picture Butte and District Agriculture Society.
"This weekend reflects those aspects of the Picture Butte community by creating opportunity to socialize, show creativity, ambition, and allow for folks and their families to see each other and enjoy the summer days. The theme for 2019 is 'Community Rooted in Agriculture', and we at the Ag Society decided on this as Picture Butte immersed in agriculture and farming to its very core. Many citizens livelihood is directly or indirectly built on the foundation of agriculture."
Th festivities kick off on Friday,  Aug. 16, at 10 a.m., when judging for the business window and displays take place. Judging for bench fair entries goes at 1 p.m., with entry drop off going Thursday, Aug. 15 from 5-9 p.m. and Friday 9 a.m. to noon at the Picture Butte High School.
A slow pitch Tournament will take place all weekend at the Harry Watson fields.
A tractor pull will go at Coyote Flats at 6:30 p.m., and a Street Dance will take place from 7-9 p.m. at the outdoor rink in Lions Park. Van Schothorst thanked the Picture Butte Recreation and Culture Society for putting on the dance this year.
The night will end with fireworks at the Harry Watson Memorial Park at 10 p.m., weather allowing.
The Lions' pancake breakfast will kick things off on Saturday, Aug. 17, from 7-10 a.m.
"The pancake breakfast is always a great socialization opportunity to catch up with folks you may not see often," said Van Schothorst.
Bench Show exhibits will be available for public viewing at the high school from 9 a.m.-3 p.m. Parade participants are asked to line up on the Dorothy Dalgliesh School grounds at 9 a.m., with judging to go at 10 a.m. The parade itself will kickoff at 11 a.m., followed by a Family Fun Day in the Lions Park from 11:30 a.m.-2:30 p.m. and a slip-n-slide, hosted by the Picture Butte Fire Association. A BBQ lunch will be available starting at 11 a.m. at Coyote Flats, followed by the Parade of Power at 1 p.m.
"I really encourage folks to participate in all the events they can and especially take your children out to enjoy what this community can offer," said Van Schothorst. "I really encourage checking out Coyote Flats Pioneer Village. Visiting this place can give real perspective on how pioneers of southern Alberta established the area we call home today. The volunteers and members of the Pioneer Village put a lot of work and pride into keeping this museum going for citizens to enjoy."
A threshing demonstration will take place on site at 2 p.m., and wood turning demonstration will take place throughout the day.
"On Saturday, events won't start too early as we don't want to take away from the parade in Picture Butte," said  Murray Williams, general manager of Coyote Flats Pioneer Village."We're going to do some thrashing demonstrations, that will mean we will have a binder that we will use to cut and tie the crop into sort of like bales, except they're called sheaths as they're round, and they'll be hauled in by wagons, and all the work is done by hand," said Williams. "We're going to have a steam engine actually driving the thrashing machine this year, for at least part of the demonstration. This is the first year that these steam engines have run, so we've had a couple of test runs already, and driven them around the park and so forth. They're quite spectacular to see."
At 3 p.m., slow races followed by a tractor pull will take place, with a politicians pull at intermission at 3:30 p.m. Back at the Lions' Park in town, at 9 p.m. a movie will be shown, with attendees being asked to bring their own lawn chairs and blankets.
Sunday, Aug. 18, will see breakfast being served at Coyote Flats, followed by a BBQ lunch at 11 a.m. A church service will go in Lions Park, sponsored by the Cornerstone Community Church, followed by a free lunch. Attendees are asked to bring their own lawn chairs. Back at Coyote Flats, a horse pull will take place at 12:30 p.m., followed by the parade of Power at 2 p.m., slow races at 2:30 p.m. and a harvest demonstration at 3 p.m.
"It's a celebration of days gone by," said Williams. "I think it's just going to be an incredible weekend in total. I think the Town of Picture Butte does it up right, and we just want to augment what's going on in town.
"I think it's just going to be an incredible weekend in total. I think the Town of Picture Butte does it up right, and we just want to augment what's going on in town."