Coaldale-Lethbridge Community Growing Project's harvest rescheduled to go on Thursday
Posted on August 27, 2019 by Sunny South News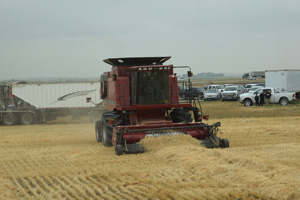 Sunny South photo by Nikki Jamieson
By Nikki Jamieson
Sunny South News
While they may have had an early start when it came to seeding, the Coaldale-Lethbridge Community Growing Project's harvest had to be rescheduled due to rain last week.
"It rained and so the crop is too wet. It can not be combined," said Larry Penner, media contact for the growing project. "The grain won't store in people's bins and the combines actually won't be able to thrash the grain out of the straw."
The new harvest date is set for Thursday, Aug. 29. Combining will start around 11 a.m., with the BBQ and public events starting around 11:30 a.m.
To get to the field from Coaldale, travel west on Highway 3 and turn north on on Range Road 20-4, at the Ground Breakers Construction sign and office, and continue north for approximately four kilometres to 93033 Range Road 20-4.
About 20 combines are expected to come out to harvest 115 acres of feed barley. People are encouraged to come and view the harvest and support the growing project.
"Same time, same place, you can refer to all the details in our ad (in the Aug. 20 edition of the Sunny South News)," said Penner.
"The crop looks good, but we won't know for sure until we get it put through the combines."
The Canadian Foodgrains Bank is a partnership of 15 churches and agencies with the focus on ending hunger world-wide. In the 2017-18 budget year, they provided more than $37 million to help more then 800,000 people in 34 countries.
Growing Projects support the foodgrains bank by growing and harvesting a crop, selling it on the Canadian market and donating the proceeds to the food grains bank. This money is then used to help combat world hunger.
"We are a fortunate country in the amount of food that we have, and there are many in the world who are hungry, and the Canadian Foodgrains bank is a really solid vehicle by which people can help those in need around the world. It is recognized in Canada as one of the highest return on investment donation opportunities."
For more information, visit foodgrainsbank.ca.