Town of Picture Butte holding off on umbrella purchase
Posted on September 3, 2019 by Sunny South News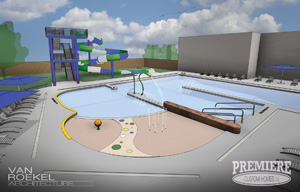 Graphic submitted by the Town of Picture Butte
Umbrellas would provide shade in pool area
By Nikki Jamieson
Sunny South News
The Town of Picture Butte will be holding off on purchasing pool umbrellas until they know if the shade is needed.
During their regular Aug. 26 meeting, Picture Butte town council discussed the potential installation of umbrellas at the Cor Van Raay and Community Aquatic Centre.
Council had previously requested that town administration look into getting umbrellas installed at the pool. Premiere Custom Homes Ltd., the pool contractor, had recently came back with pricing for the umbrellas, recommending two options. However, as one was not CSA approved and administration doubted the engineers and designers would sign off on them, it left the town with one possible option, Park N Play, whose umbrellas are about $10,000 each. Additionally, as they will not send the base alone, the town would be required to purchase the entire umbrella setup.
Administration requested a decision from council on whether they would like two umbrellas to be installed in the concrete near the arena, since the umbrellas in the grass can be installed at any time.
In memo to council, CAO Keith Davis had recommended that they not proceed with the purchase, as the umbrellas come with a bolt-on option which would allow them to be installed at a later date, the town has no idea how much of an area they will shade, shading options can be be installed at a later date and for the price tag, he would like to wait and see what they needed after the pool has been open for a season.
Coun. Cynthia Papworth agreed with the last point.
"We have no idea what we're going to need. You go ahead and buy those umbrellas already, and it could be just a waste, waste of money," said Papworth.
Coun. Henry de Kok disagreed that that would be a waste of money, but said even if they don't move ahead with the purchase, they should still put in the needed concrete blocks for the umbrellas in the deck area, so they can be added at a later date. Otherwise, should they discover a need, they will have to jackhammer up the area to add more concrete.
"If you want to cut it in later, than that adds a lot to the cost too, unless you think it's good enough to do it on top of a five-inch slab later on," said de Kok. "We have recommendations for the extra concrete for a reason. And that will be a relatively minor cost compared to the whole umbrella.
"If you have the concrete in just those two spots — like you said, the grass area can be added whenever, the town guys can do that for that matter, if you ever wanted too — but I do think that's going to be a hot corner, I do think that will be a spot you could use umbrellas, possibly."
Council passed a motion to not proceed with purchasing umbrellas for now, but to put in the two bases for the concrete area as shown in the plans.