Investigation into train derailment south of Barons continues, clean-up ongoing
Posted on September 10, 2019 by Sunny South News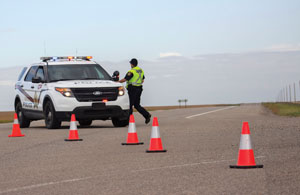 Southern Alberta Newspapers photo by Greg Bobinec
By Nikki Jamieson
Sunny South News
Nearby residents were briefly evacuated following a train derailment south of Barons last Monday.
CP Rail reported that around 7:40 a.m. on Monday, Sept. 2, a train derailed along Highway 23 south of the Village of Barons by Township Road 12-0. A total of 21 cars and one locomotive engine were involved in the derailment. No injuries to the train crew were reported.
Three cars carrying octane were found to be leaking. Highway 23 was closed from Township Road 11-4 to Township Road 12 with traffic being diverted westbound, and at 11 a.m., Lethbridge County  announced an evacuation order for everyone from Highway 23 west to Range Road 23-5, Highway 23 east to Range Road 23-2 and Township Road 12-2 south to Township Road 11-4.
This included the Keho Lake area and the Keho Lake campground. A reception centre for displaced persons was opened at the Nobleford Community Complex.
Lethbridge County reeve Lorne Hickey praised the response from emergency personnel.
"All of the fire departments and emergency people were there as soon as possible, there was no delay and they got the highway shut down, then the CPR showed up and did an excellent job of containing the spills and they seemed to of pulled in a lot of equipment to get the job done in a hurry," said Hickey.
"I would just really like to thank the people who went out there, like from the fire departments; they did an excellent job and that's a long day to be out there, and everything went well."
Hickey said the evacuation radius was determined by a guide used by emergency service personal.
"For instance, this was octane, and it was about a kilometre and a half radius, so they just did a two-mile (evacuation). But if it would have been an anhydrous (ammonia leak), it would have been double that."
While the evacuation order did not affect the Village of Barons, Mayor Ed Weistra said that village administration had a plan in case the village needed to evacuate.
"All of the stuff was in place to make it, we were ready to go if we had to," said Weistra, adding that they didn't want to panic anyone as the derailment was "quite a ways away" from the village.
Weistra paid a nod to Coalhurst mayor Dennis Cassie, who had offered them "whatever they needed" in case they needed to evacuate.
"We couldn't come to him because we would have to go past the scene, but if we could get to him, he was more than happy to give us whatever we needed," said Weistra. "That's the thing I love about small communities, they stick together when stuff like this happens."
Weistra thanked the Barons, Picture Butte, Nobleford and Coalhurst firefighters, the RCMP and CP Rail hazmat officers who put a "quick end to a serious situation".
The leaks were stopped and the visible spilled product was removed with vacuum trucks. At 4 p.m., the evacuation order was rescinded by the county, and crews continued to work onsite to ensure that all equipment was removed and the area was fully restored.
"We were very fortunate; there was no fires, no injuries to any person. I mean if that stuff started on fire it would have been quite an ugly mess, because it is very flammable," said Hickey, noting that the train was carrying both octane and anhydrous ammonia, both of which are very flammable dangerous.
Clean-up is still underway and rail cars are still being towed away from the scene.
Barons fire chief Bryon Fraser said the anhydrous tanks still need to be removed, and this week they will be doing some flaring on the tanks to release the pressure.
"People should just know that there will be fire while we're off gassing it, because they burn it so it doesn't go into the air," said Fraser.
"On the day they do the flaring, fire will be coming out of some of the tanks… It's all planned, and we will have resources there from the fire department just in case something goes not as planned, we're ready.
"(Clean-up is) still ongoing, but the octane is all completed and cleaned up."
An investigation into the cause of the derailment is ongoing.