Rural Crime Talking tour aims to engage, discuss community needs
Posted on October 1, 2019 by Sunny South News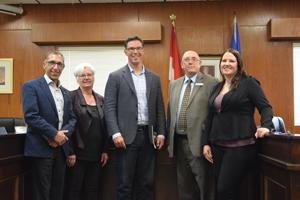 Sunny South Photo by Nikki Jamieson
By Nikki Jamieson
Sunny South News
Addressing rural crime was a key part of the UCP's campaign commitments this past provincial election.
Now, as Doug Schweitzer, minister of justice and the solicitor general  for Alberta, speaks with Albertans about rural crime issues in their communities, they're making it clear they want fast action on those commitments.
"The biggest thing we're hearing from Albertans is they want us to follow through on our campaign commitments to tackle rural crime," said Schweitzer.
"They're still seeing property thefts in their communities, they're still seeing great frustration with individuals being arrested but right back out on the streets. So they're looking to us to implement our campaign commitments, from hiring 50 new prosecutors to providing additional funding to combat organized crime through police organization like ALERT, to making sure as well, that we follow through on our campaign commitments to deal head on with addictions issues and the Opioids crisis in Alberta."
Schweitzer was in Coaldale last month to meet with members of town council to discuss rural crime issues in the community as part of his Rural Crime Talking tour, and said he received lots of good feedback from them and has some take-away items to follow up on.
"They're living it at the ground here in the local level, and the one thing that we've found is that local advice at different community meetings, round tables, town halls, sometimes the advice and feedback is different than from what you would get through department channels. So you want to make sure you've got your finger on the pulse and engage with Albertans."
Coming soon to Coaldale is a new RCMP detachment building, which hosted a sod-turning ceremony back in June. Schweitzer said he had met with some Coaldale RCMP officers, and said it was "encouraging to see progress on that".
With the provincial budget due out on Oct. 24, Schweitzer said they had wanted to get out and hear feedback from as many Albertans as possible, and is now past the halfway mark in the rural crime tour that has seen him travel from one end of the province to the other.
"One thing that we've found is that crime issues can change quickly in Alberta, different trends can pop up. We want to make sure that we keep our finger on the pulse so that the policies that we're funding and the initiatives that we have in Alberta reflect the realities in our communities."
While he has heard about different regional issues, he has heard a "general, persistent theme" that Albertans have lost "some faith in the justice system".
"They're looking for us to stop the revolving door, to make sure that we fund the priorities that we are committed to, to tackling crime in Alberta, and they're looking for us to advocate for them in Criminal Code Changes as well, and we've been doing that with the federal government and supporting our conservative colleagues with some of the reasonable amendments that they've suggested for the Criminal Code," said Schweitzer.
"It's not all within our provincial jurisdiction, but we're fighting hard to get changes at the federal level as well."
Communities have also expressed a desire for the province to maintain or increase their "front lines", and Schweitzer says they are doing everything they can to preserve police funding and police at a local level.
The Albertan government has made some progress on addressing those campaign commitments. Earlier this month, the province had announced they were funding 4,000 addiction treatment beds and spaces, outpatient services and medically assisted detox spaces over the next four years, as part of the $140-million commitment to addiction and mental health care made in their election platform. Schweitzer says they will also be doing their part on on the justice initiative to ensure that addicts in the system can feed into that treatment model.
During their campaign, they had also committed $20 million over four years to fund drug treatment courts, and are looking into how to expand their reach. Currently, they are only available in Calgary and Edmonton.
"I do think that communities like Coaldale and Lethbridge, potentially as Lethbridge is a hub for some of those services, might be well thought of at the local level, and there may be an opportunity to do it," said Schweitzer.
"We believe with a commitment to expand the reach of treatment beds, that Lethbridge is a prime location to do a program like drug treatment courts."
Feedback from the tour will be reflected in the provincial budget when it is released in October.