Barn Dance fundraiser going at McNally
Posted on October 8, 2019 by Sunny South News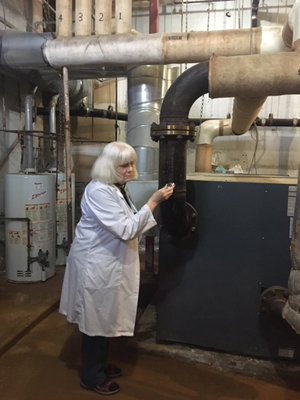 Sunny South Photo Submitted
Fundraiser will raise money for Bertha The Boiler heating replacement
By Nikki Jamieson
Sunny South News
A Barn Dance and Tex Mex Fiesta fundraiser will be taking place next weekend at the McNally Community Centre.
The fundraiser, which will help raise money to cover the costs of replacing the building's old heating system, Bertha the Boiler, will feature dinner, live music, dancing and auctions.
"It's kind of a celebration of barn dances and good food and good dancing, entertainment and people coming in enjoying the evening, walking out and saying 'I'm so full I can hardly dance, but what a great night'," said Elisha Rasmussen, chairman of the fundraising committee for the McNally Community Association.
"Because it was fall and it was harvest time, and that usually was one of the things, if you look back in history, barn dances were the one time where people could get together and eat good food and dance and greet their neighbours and enjoy the company and socialization of the community, which comes together with one purpose. And sometimes it was a fundraiser, or sometimes it was just an event. So what we're trying to do is, this is a fundraiser, but it's also an event."
Music will be provided by the Great Canadian Barn Dance Played, and Rasmussen said they play "every genre".
"They are so good, people don't sit down when they play. They are up, either doing line dances or two-steps or whatever it is."
The McNally Community Centre was built in 1946, and Bertha the Boiler was installed around 1965. Originally a school building, it later became a space for artist studios and community programs.
However, in recent years Bertha the Boiler became plagued with problems, and has had to be reconditioned twice.
Robert Luco, vice-president of the McNally Community Association, noted one event two years ago when the condensation pump had malfunctioned, so no water was getting into the boiler, and he and his son spent two weeks sleeping over at the community centre to make sure Bertha had enough water to keep producing steam. Instances like this were common, as  Bertha was quite "problematic" for a number of years.
Given that the pipes and radiators of the old heating system are original to the building and they can't find parts to repair Bertha because of the system's age, the McNally Community Association made the decision earlier this year to install a new heating system and retire Bertha.
"Bertha has been officially decommissioned. She had quite a few of her pipes removed, so we can't start her at all," said Luco. "We are in the middle of doing an upgrade to the heating and air system. We don't have a choice, we can't go back, Bertha is basically buried."
As of last week, the heating system has been installed, but it still needs to be connected to the electricity in order to work. Fortis is currently scheduled to do that work in early November, although the association keeps checking to see if they could get it done sooner.
The barn dance will be taking place in the hall, and organizers assured that attendees won't get cold doing the two-step, as heaters are being run in the building's hall to keep it warm in the interim.
"The building will be ready, the gas is all hooked up, but we don't have the required electricity to do so, and we're waiting for Fortis to come in and do that," said Rasmussen.
"We're really hoping that nothing happens till November," said Vaughan Coupland, president of the McNally Community Association, referring to the snowfall the previous weekend. "It's ready to go, so if we could get the electricity in, we could (turn the heat on)."
Replacing a heating system is expensive, especially when doing so in an old building, and the association has been fundraising to cover that cost. A tea and hat show fundraiser was held in June, which Rasmussen said they received praise for.
"We always try to do something that's just a little bit different. Not the norm, not, you know, I guess the basis of the barn dance or whatever. We try to throw in things that are just going to make it fun."
Luco said that they are also looking to rebuild a "sense of community" in the area with the event.
"I was raised in the McNally district, and went to school at McNally, and there's a long history of community dinners, community dances and over the years, when McNally was no longer a school for the community, I think we kind of lost touch with some of our neighbours," said Luco. "What we're trying to do now through some of these events like the tea and the hat show and the barn dance is get reconnected to the community and help the community reconnect."
A roaming photographer will be taking pictures throughout the evening, and a 'Wanted' photo station will be set up.
Between the fundraiser and donations from private individuals and businesses such as Telus, Fortis and a local cattle feeding operation, they have received about $85,000 so far to cover the cost of installing the new heating system, which is about $140,000. The association also has commitments from some local businesses that are still coming in.
A number of businesses and private individuals have donated items such as tires and oil paintings towards the silent auction and raffle at the barn dance. Ground meat was also donated from Rick Pascal for the dinner.
"When these things happen, you are just in awe, because you ask for things, and people are so, most of them are very readily, you know, how can we help, what can we bring, or what can we give you, and that sort of thing," said Rasmussen.
Luco said that they have applied for charitable stays with the CRA, so they can provide receipts for those who make donations, and they are waiting to hear back from them later this month.
The Barn Dance and Tex Mex Fiesta fundraiser goes Saturday, Oct. 19, at the McNally Community Centre, 210075 Township Rd 8-2. Dinner starts at 7 p.m., with the dance starting at 8:30 p.m.
Tickets are $50 each, and are available at Western Stockman, the Luco Farms Mustard stall at the Lethbridge Farmer's Market or by contacting Coupland at 403-308-0077.