Harder has easy time in riding
Posted on October 22, 2019 by Sunny South News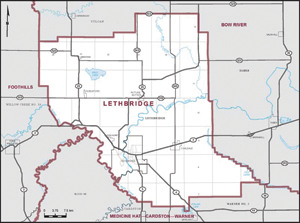 Sunny South Graphic from Elections Canada
Conservative Rachael Harder cruises to victory with approximately two-thirds of vote for Lethbridge riding
By Nikki Jamieson
Sunny South News
Please note that this story was updated after press deadline
The Liberal party has been granted a mandate to form government, but not a majority.
Polls were open from 7:30 a.m.-7:30 p.m. on Monday, Oct. 21, for voters to cast their vote, and at the end of the night, the Liberals won 157 seats, the Conservatives 121 seats, Bloc Quebecois 32, NDP 24 and Green with three. One Independent candidate also won a seat.
A party needs to win 170 seats to form a majority government.
In the Lethbridge Riding, incumbent Rachael Harder, the Conservative candidate, was defending her seat against Marc Slingerland for the Christian Heritage Party, Stephnie Watson for the Green Party, Amy Bronson for the Liberals, Shandi Bleiken for the NDP and Grant Hepworth for the People's Party of Canada.
Although the election for the Lethbridge riding was not declared as of press deadline last night, according to Elections Canada, with polls still reporting in, Harder held the lead with about 66 per cent of the vote.
With all the polls reporting in, Harder retained her seat with 65.6 per cent of the vote, and received 41,580 votes in total — more than 30,000 more votes then her fellow candidates. Bleiken received 14.9 per cent of the vote, Bronson 13.6 per cent, Watson 3.2 per cent, Hepworth 1.6 per cent and Slingerland 1.1 per cent.
Early voter turnout for this election has risen compared to 2015. On Oct. 15, Elections Canada had estimated that about 4,700,000 electors voted at the advance polls this federal election, which was a 29 per cent increase from the 3,657,415 advance voters in the 2015 federal election. Advance polls were open on Oct. 11-14, from 9 a.m.-9 p.m. In Alberta, an estimated 578,219 voters turned out to the early polls to cast their vote. In the Lethbridge riding, an estimated 16,373 voters cast their ballots early.
According to the results on Elections Canada, although polls were still reporting in, about 66 per cent of registered electors voted this election.
See next week's edition of the Sunny South News for more election coverage.