Regional students participate in first Hackathon at PBHS
Posted on March 3, 2020 by Sunny South News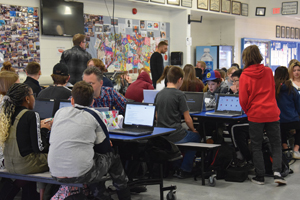 Sunny South photo by Nikki Jamieson
By Nikki Jamieson
Sunny South News
Students across southern Alberta competed in a Hackathon last week.
Taking place at Picture Butte High School on Feb. 25, grade 7-12 students from Holy Spirit Catholic School Division, Horizon School Division, Kainai Board of Education, Lethbridge School District, Livingstone Range School Division, Peigan Board of Education, Palliser Regional Schools, and Westwind School Division competed in the all-day event which aims to teach students about digital literacy.
Callysto, a federally-funded free learning platform, had partnered with Palliser to put on the Hackathon. While Callysto has put on Hackathons in Alberta schools before, this is the first Hackathon for Palliser.
"A Hackathon is an event where we gather a bunch of, in this case, students together and give them programming challenges and problems to solve with data," said David Hay, Callysto ambassador for Alberta.
"We have open data from this area, from Statistics Canada, from the City of Lethbridge, and students are analyzing that data and coming up with some answers to the fictional scenarios we've designed for them."
During the Hackathon, based on data the students have access to, they make recommendations on how to solve the problems presented to them.
The students will be using python-programing within jupiter notebooks — online documents that include formatted text and python-code interspersed together in literate programming, so they can describe what they're doing in the code and have the code run live in the document.
As students may or may not have been introduced to coding before the Hackathon, the day started with introductory activities along with some self-spaced activities for students to complete before they begin the challenges.
One grade 8 student from St. Catherine's School, Connor O'Donnell, was first introduced to coding through Scratch, which features a block-based coding language. He later got a chance to expand on his coding knowledge through a course in school.
"We have a robotics and coding class at school, and I enjoy that a lot," Connor O'Donnell, a grade 8 student from St. Catherine School. "I've always just like the idea of coding and stuff like that."
Coding for the robotics course and Hackathon was "slightly more complicated" compared to Scratch, according to O'Donnell, as you have to type everything out. Although he wasn't sure if he wanted to study coding throughout his schooling, right now it is a fun thing to do.
Hay said that they hope that what students get from the Hackathon is the idea that this is something that they can do.
"Either something they can do as a hobby or even as a career, to become a programmer or a data scientist, or some other field that involves programming, and that's something we're seeing a lot of, that many other fields involve some programming, whether it's for automating processes or applying artificial intelligence or machine learning, or data science in general," said Hay.
"(We want) to show students that this is a possible career path or something that's good for their future and for their current school experience."
"Coding and technology is the future. I believe that it'll impact my life, because there is going to be a lot of job opportunities in the future with coding," said Giselle Del Valle, a grade 11 student at Picture Butte High School.
Del Valle got interested in coding from the daVinci Sugerical System, a machine designed to perform surgeries using a minimally invasive approach while being controlled by a surgeon from a console. Del Valle wants to be a doctor and create machines that will help perform surgeries.
Students are given a challenges to complete within a set period of time.
Working in groups, once their challenges are completed, they hand in their documents and see if they won a prize.
"I just want to learn and experience it. I want to find out is this is for me or not. So far it's pretty fun," said Del Valle.
The potential of coding in new jobs also appealed to Anna Vanman, a grade 8 student from Huntsville School, when her class started learning about coding this school year.
"I haven't done this ever before, so it's pretty cool," said Vanman about the Hackathon. "At first, it was a little confusing, but it's pretty interesting and fun."
Jason Kwasny, technology integration specialist for Palliser, had been working with Callysto for a few years, having held training sessions for teachers and worked with their advisory committee. During a meeting, it was brought up that Callysto and put on Hackathons in northern Alberta and that their hadn't been one in southern Alberta.
From there, they decided to organize one with school divisions across southern Alberta.
"The nice thing is, is we have lots of contacts from other school divisions, so essentially we've broadcasted the message out to them that this is going on, to all of our principals that this is going on, organized with Mark Lowe here, the (PBHS) principal, to get the space set up, and kind of crossed our fingers and hoped for the best, as we didn't know what to expect as we were setting this up," said Kwasny, thanking the people from Callysto and Cybera, Callysto's parent company, for doing such a great job.
"I think the kids are really engaged, I think they're learning some stuff.
"Normally, they wouldn't be exposed to statistical analysis and data analysis in this manner, and the idea that you can show them that it's not some high-in-the-sky crazy idea, that it's something that anyone can do and the tools are very simple."