STARS thanks Picture Butte Rocky Mountain Equipment for support
Posted on March 17, 2020 by Sunny South News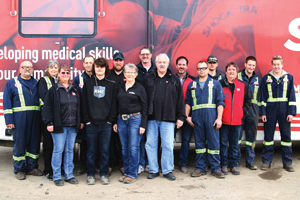 Sunny South photo submitted by Rocky Mountain Equipment
By Nikki Jamieson
Sunny South News
Employees of the Picture Butte Rocky Mountain Equipment branch are proud to support STARS. So much so, they were honoured at an event earlier this month to thank them for raising the most money per employee for STARS as part of a company-wide employee fundraiser for the organization.
RME had decided to partner with STARS and fundraise for them in the RME Employee Matching campaign.
The 16 employees of the Picture Butte RME branch averaged the biggest donation per employee, having raised 3.5 times the average employee donation.
"We think (STARS) is very important, especially in our industry, when most farmers are away from major communities, so they don't have access to some of the best medical all the time. When something serious happens, STARS is there to help out." said Richard Sheen, branch administrator of the Picture Butte RME branch. "I think it was nice that they recognized that we managed to donate not necessarily the highest amount, but the highest per employee. I was quite proud of that, we're quite proud of that.
"I think if anybody wanted to donate somewhere, that would be a very good thing to donate to. It helps everybody, not just the smaller communities, but the larger communities they go to too."
In the inaugural year of the fundraiser in 2019, employees across the company donated $18,000 towards STARS. RME pledged to match employee contributions up to $25,000, and topped it off to send a total of $50,000 for STARS.
For Sheen, helping STARS is personal. When his mother passed away, STARS was there to transport her to Calgary for care, and for himself personally, they transported him from Lethbridge to Calgary when he had a heart attack.
"I think they're a very good outfit," said Sheen.
"It think it's very vital for smaller communities. We're very close to Lethbridge (in Picture Butte), but some communities, they're an hour, two, three hours away from a major centre where they can get some major help."
The event, held March 2, saw the STARS mobile unit visit the area, featured a STARS VIP, Clayton Orr, who spoke about his life-saving experience with STARS, and a presentation from Denise Kinghorn, director of development for southern Alberta for STARS.
"It gave us a little bit more knowledge about what STARS does, how they help people and that type of stuff," said Sheen.
"Both Rocky Mountain Equipment and STARS exist to serve communities throughout Alberta, Saskatchewan and Manitoba. STARS was thrilled to be the recipient of Rocky Mountain Equipment's employee fundraising initiative for 2019," said Kinghorn.
"It was our privilege to be at the Rocky Mountain Equipment location in Picture Butte on Monday to thank local staff and recognize them for their fundraising efforts. The Picture Butte branch, consisting of only 16 employees, raised 3.5 times more than the average employee donation.
"STARS averages eight missions a day and we respond where we're needed most — that means vehicle collisions, medical emergencies, traumatic events, or agriculture related incidents. We rely on the support of our allies like Rocky Mountain Equipment to ensure that each person who needs emergency medical care receives it."