Coaldale town council requests Code Red report
Posted on April 28, 2020 by Sunny South News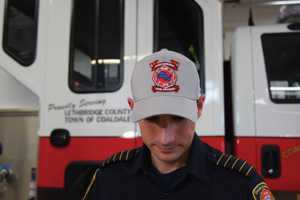 Sunny South photo by Nikki Jamieson
By Nikki Jamieson
Sunny South News
Coaldale town council raised concern with the amount of time emergency services is spending answering false alarm and Code Red calls in town.
During their regular April 14 meeting, Coaldale town council received the 2019 Year End Report
from the Coaldale and District Emergency Services.
CDES answered 420 calls in 2019 — 179 fire and 241 medical — up from 392 the previous year, representing a 2.34 per cent increase. Coaldale population had also increased by 1.9 per cent from 2018 to 2019.
Of those calls, 296 were town calls and 124 were for calls in Lethbridge County. CAO Kalen Hastings noted that while there were fewer county calls, they tend to take longer than town calls.
For town calls, 68 per cent, or 200, were medical calls while 32 per cent, or 96, were fire calls. The situation was inverted for Lethbridge County, with 67 per cent, or 83 calls for fire and 33 per cent, or 41, calls for medical.
In total, CDES's time on calls was 59 per cent, or 213.75 hours, on town calls and 41 per cent, or 145.75 hours, on county calls. In firefighter hours, they spent 1,435.25 hours responding to town calls and 1,240.75 hours responding to county calls.
For types of calls answered, 57 per cent were for medical, 12 per cent fire, 11 per cent motor vehicle collisions, 19 per cent alarms, one percent for mutual aid and.
Hastings noted that they had a lot of calls for alarms, especially considering that some of those calls would be for false alarms, and he suggested that council could pass a bylaw with a warning and fine system for false alarm calls.
"That's a lot of people's time that gets spent if there's chronic false alarms from people who are not properly maintaining their security or their fire alarm systems, and that comes at the expense of volunteers and their time," said Hastings. "You could look at, in the future as an action item, passing a bylaw that attaches a cost to people who are not properly managing their systems."
Hastings also noted that for medical calls, it was a "fairly substantial service augmentation" they were doing for the province for no financial compensation.
There were 24 code red calls — when there is no ambulance in the town and the only medical response available is the fire department — in 2019, up from 14 in 2018 and 15 in 2017.
"It's a good thing that we have a very trained, well trained fire department. We've got paramedics, EMTs and medical supplies in the vehicles that are there. But we are significantly limited in what we can do, legislatively."
One issue with the fire department answering Code Red calls is they are not allowed to transport patients, even if they are qualified to do so, which Hastings says creates a "vulnerability that Coaldale residents face because of a gap in service efficiencies in the failed regionalized model that Alberta Health Services is currently employing".
There was 12 fires in 2019, resulting in loss of $873,050 and $2,736,250 worth of property saved. A total of 150 fire inspections took place, along with eight home safety inspections, 10 smoke alarm replacements, 13 firehall tours with 201 school-aged children attending and 100 people attending a fire prevention open house.
For training, Coaldale firefighters completed 1,931 training hours, with four firefighters attending the NFPA 1021 level 1 course in Picture Butte, six attending the Nozzle Forward course in Lethbridge, two attending Big Rig vehicle extradition training in Nisku, three completing NFPA 1041 level 1 in Coaldale, 22 doing Pierce Training in Coaldale and three taking the NFPA 1051 course in Nobleford.
Phase One of the fire hall construction is complete, and Hastings reported hearing good feedback on the Kate Andrews Fire Academy, which had completed it's first semester, and they expect the program to grow.
"There's other communities, fire chiefs, that are calling us, asking 'how do you do it, we want to do it'. We've actually have a couple of students from other communities in the Palliser school district join, maybe they'll just join Kate Andrews (High School) permanently, you never know, but that's, I'm getting really good feedback from our fire chief on how that's going, and we expect that to grow."
Mayor Kim Craig said he would like to see a report on the impacts of code red and medical calls on CDES. He also inquired is they could implement a warning and fine system for false alarms in the town's rates and fees bylaw. Kyle Beauchamp, director of cooperate services for the town, noted it was already in that bylaw, with the first and second response to a false alarm call relating to a malfunctioning fire safety installation or other safety device during a calendar year being at no charge, third response a $150 charge and the fourth and more subsequent responses a $300 charge.
"It is a very small amount in consideration of the cost for the time," said Beauchamp, adding it was up to council if it was adequate. Coun. Briane Simpson said she would like to know what "jeopardy" the people in the 24 code red calls were in.
"If you were in the middle of a heart attack, did you even make it to the hospital then if the ambulance wasn't there?" said Simpson. "So I would actually like a breakdown, and report that on the AHS and Alberta government, and say this is not something we accept for our residents in Coaldale."
Coun. Jacen Abrey noted that the province's definition of Code Red and the town's definition of Code Red calls was going to be different, and the province was going to say they have an ambulance available in Vauxhall to respond to a Coaldale call, but they don't feel that's sufficient. He also said that a contract ambulance service, their chute time — the time from which they receive the call and get out the door — is 90 seconds, while AHS's is 20 minutes, as their staff can stay at home while contracted services must stay at the station.
"They've got two sets of rules, that they manipulate the rules so they can't, so they don't break them," said Abrey. "I would say 60 per cent of the time we don't have an ambulance available in Coaldale, but they twist it to make it look like we do, and you'll see very frequently Lethbridge coming out here, Raymond coming out, Vauxhall or Taber coming over, because to them, that's an ambulance available.
"We're a town of 8,500 people, and we want better."
Abrey suggested that go to the province and state their concerns and want for a better system, and if the province can't do it, Abrey said they should let the town operate that system.
Council unanimously passed a motion to receive the report for information, and unanimously passed a motion to direct administration to do a follow-up report on Code Red calls and their impacts.