Online petition for backyard hens in Picture Butte
Posted on May 5, 2020 by Sunny South News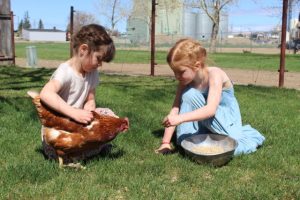 Sunny South Photo submitted by Jen Bowden
By Nikki Jamieson
Sunny South News
A Picture Butte resident is looking for people to sign an online petition to allow for backyard chickens in town.
Jen Bowden has lived in Picture Butte for four years, and felt that Picture Butte would be the perfect place to have chickens.
"We have never owned hens before, but were inspired by a few lovely coops on our own street. We love to go for walks as a family, and for years I've been peeping through the back alleys, dreaming of owning a little coop of my own," said Bowden. "There's something that seems so french country about owning your own hens. People we knew of in town who had hens were the kind of people I wanted my family to emulate; the kind of people who love to spend time out in their gardens-not just rushing off from one activity to the next. Backyard hen owners also seem to have an appreciation and respect for where their food comes from, and I think that helps create more responsible citizens."
Bowden says when she and her husband were attending the University of Lethbridge, they took a class where they learned about the ecological benefits of urban agricultural practices, and that's where she first began thinking about owning some hens.
"I remember thinking: why are we wasting all this land? Just because it's within town or city limits? It made me think about being a steward of my own property in a way that went beyond just keeping the lawn neat and green."
With the outbreak of COVID-19, her family decided to get chickens and built a coop for them in their backyard. Bowden said she was impressed by how quiet they were and how easy their coop and run was to clean, noting there wasn't any smell.
Unfortunately, five days after they brought them home, a bylaw officer showed up, and they were informed they couldn't keep the chickens.
According to the town's Animal Regulation Bylaw, under the Livestock section, it states that "No person shall keep livestock within the Town of Picture Butte", with the exception of on a temporary basis for things such as veterinary clinic, rodeo grounds and other establishments where they will be held for a short amount of time and temper airily. An exception is also made for livestock who walk in the town's Jamboree Days parade and celebrations. Chickens are included in the bylaw's definition of livestock.
Bowden made a request at Picture Butte town council's regular April 27 meeting for a waivement of the bylaw, which was ultimately denied. They now have until May 8 to get rid of their chickens.
Hoping to get the bylaw changed, Bowden launched a online petition to Picture Butte town council to have the Animal Regulation Bylaw amended to allow for a small, well-cared-for flock of hens in town.
Bowden stressed that the bylaw change would not include roosters, it just focuses on small groups of hens. She noted that she has talked to some people who didn't know that you could still get eggs from hens with no roosters around, and her children love their daily easter egg hunt.
Additionally, with the pandemic, more people are interested in being self sufficient, and having chickens in your backyard can help with that in cases such as a job loss or food shortages.
As of press deadline on Friday, more than 140 people have signed the petition. Bowden says there needs to be at least 185 signatures from people living in town in order for council to act on this issue, and they are halfway there. She also hopes to have at least 500 people sign the petition to signify excitement for the idea.
"Not everyone wants the responsibility of owning chickens in their backyard, and that's okay! We're all different, and we want to use our yards for different things. But keeping a small, well-cared for flock of chickens in an enclosed coop won't create loud noises, a bad smell, or attract unwanted wildlife," said Bowden.
"When you sign my petition, you're just saying to your neighbour: it's your backyard, and if you want to have a few hens and tend to them in a reasonable way that doesn't disturb my life, go for it!" According to the town CAO Keith Davis, chickens have never been allowed in town in it's recent history.
In 2016, there was survey which asked residents if they were in favour of allowing residents to keep chickens in back yards in towns, with 51 per cent opposed and 49 per cent in favour of it. Council decided to support the majority of the respondents and decided to not change the bylaw to allow chickens. However, Davis said council is responsive to the desires of the public, and if they change, then council will listen and consider the desires of their residents.
To view the petition, visit https://www.change.org/picturebuttebackyardchickens.