Active digital signs being considered in Picture Butte
Posted on June 23, 2020 by Sunny South News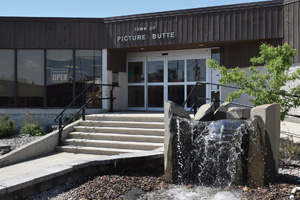 By Nikki Jamieson
Sunny South News
The Town of Picture Butte will be looking into digital signage possibilities in town.
At their regular June 8 meeting, Picture Butte town council reviewed a request for a Land Use Bylaw (LUB) amendment to allow for active digital signs — signs with flashing, scrolling or continuously changing content — throughout Picture Butte.
Currently, section 15. 6 of part 5, Signage Regulations of the town's LUB states that "Active digital signs that use digital technology to provide visual communication in advertising or conveying a message for pedestrian or vehicular traffic, where the message is non-fixed (flashing, scrolling, pulsating etc.), and where the message duration is of a time period where the average pedestrian or vehicle passer-by is subjected to a message change, shall not be permitted in the municipality".
When this bylaw was adapted in 2015, there was discussion over whether to allow active digital signs in town.
However, it was ultimately decided to prohibit their use, except in cases when they are being used by the municipality, community groups or schools at the discretion of the Development Authority.
In a memorandum to council and town CAO Keith Davis, Oldman River Regional Services Commission planner Madeleine Baldwin stressed that if council should decide to allow for active digital signs, "it is important that this is done not through a blanket change, as the applicant is proposing, but through a comprehensive review of digital sign regulations".
Additionally, if not properly regulated, active digital signs could negatively impact people's health, safety through distraction, and urban design. The town will need to consider question around placement, size, definition and appearance, among others, according to Baldwin.
Council passed a motion to direct administration to research the possibilities of allowing active digital signs in the Town of Picture Butte and to present that information to council at a future Committee of the While meeting for further discussion.