Picture Butte chamber launch raffle to spur business
Posted on August 25, 2020 by Sunny South News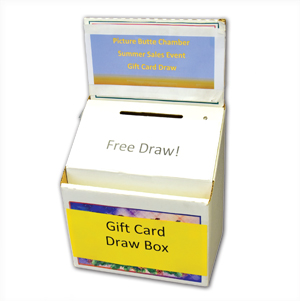 SSN PHOTO BY NIKKI JAMIESON
By Nikki Jamieson
Sunny South News
The Picture Butte and District Chamber of Commerce is hosting a raffle to support local businesses.
The chamber will be raffling off gift certificates for 16 participating local businesses as part of their Summer Sales Event. As the pandemic caused the cancellation of the town's Jamboree Days, it was decided at a recent chamber executive meeting to hold the raffle contest for local businesses instead.
"It's just a way to help support businesses in picture Butte in this time of COVID," said Tony Kok, chamber president. "Instead of spending money on Jamboree Days, we're spending money to help businesses attract customers."
Each of the participating chamber businesses will have a draw box and entry form for $100 worth of gift cards for that business.
To enter, a person would need to go to their desired store and enter their name into the draw at no cost, for the chance to win a gift card.
Each business will be hosting their own draw box, so you would need to visit each business to enter their draw.
Kok noted that businesses in smaller centres don't have as large of a customer base to draw from, and it was important for people to support their local businesses. With the pandemic, many businesses could not open for a couple of months and have seen their sales decline.
"We want to promote shopping local, and we want to try to keep businesses (here)," said Kok. "It's a small way of helping them promote their business through COVID."
Participating businesses are Bert's AG Food, Pharmasave, Flare n' Flowers, Butte Fashions, Picture Butte Hotel, NAPA, Butte Motors, Country North Liquor, Eddie's Cuisine, The Tire Shop, Ben's Quality Meats, Home Hardware, Koster's Bakery, UFA and the Cactus Pub and Grill.
The raffle boxes will be available until end of day Friday, Aug. 28, when the draws will take place. For more information, email chamber@picturebutte.ca.