Former Coaldale mayor celebrating 100 years
Posted on September 1, 2020 by Sunny South News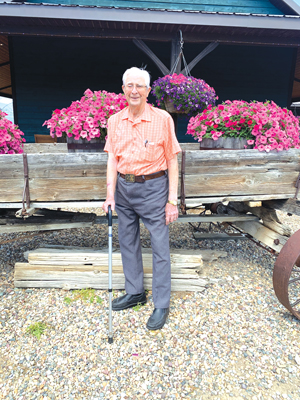 SSN PHOTO SUBMITTED
By Nikki Jamieson
Sunny South News
Former Coaldale mayor Alan Graham will be celebrating a very important milestone this week.
On Sept. 3, Graham will be celebrating his 100th birthday.
"It's quite a milestone," said Graham. "Yeah, I got aches, I got pains, but I think everybody has a few of those, and if I recall, I've always had aches and pains, so nothing much has changed."
Alan's father, William Graham, had immigrated with his brother Jack to southern Alberta in 1911 from England for work, after which he brought his finance Eleanor out, and they married in 1912, and they had Alan's older brother, Bob, in 1914. After working at Hillcrest Colleries, the brothers enlisted in the Canadian Expeditionary Forces in 1915. After the war ended, they came back to Canada, with William moving to the Lethbridge area for work, while Eleanor returned to England, where she had Alan in 1920. In 1922 the family was reunited when she came back to Canada with their two sons.
In the meantime, William had taken a beekeeping course and bought some land just west of Coaldale, and started keeping bees with 300 packages shipped from Alabama. In 1922, Jack joined William in running the bee farm, and they would start the W&J Graham Commercial Honey Business. The brothers were major contributors to the start of the beekeeping industry in Alberta, and while their first few years were tough, by 1929 they had 600 hives, which increased to 750 just a decade later.
Alan grew up in Coaldale, going to a school where John Davidson School stands today, and had the same teacher throughout his time there. The community church then was Methodist, although in 1925 it became the United Church of Canada, and the minister then would go around to the different schools in the area on different Sundays to give sermons in either the auditoriums or big classrooms.
The school building had to be torn down later though, as it had been poorly constructed.
"The one to grade 12 school was built there in 1916," said Graham. "They hadn't put heavy enough footing at the time, when it was built, and so the ends started to move. Of course, when I went to school over there, they had timbers from the roofing down into the ground, and props."
Alan would go and complete grade 12 at Mount Royal College — known as Mount Royal University today — in Calgary, as his parent's were "determined I was going to get some more education." He went back there for a second year, and at the time, the air force was offering an Officers Training program, at the colleges and universities, which he ended up taking.
"That was the worst winter I've ever had in Calgary. I have a sinus problem, and we used to have to march everyday from the college on the south side of the river, up the north hill to SAIT," said Graham, noting they put in four hours a day there, learning things such as telegraphing and aircraft recognition.
Unfortunately, due to his sinus issues, Alan was told he wouldn't be able to fly in the Canadian Airforce, but as his father and uncle had a bee farm they needed help on, he was given an honorary discharge and told to stay on the farm until the war was over, and so Alan headed back to Coaldale.
In 1944, Alan married his first wife Jinite, with who he had two daughters, and later became the guardians of their son, who had lost his parents when he was a child. Between them, Alan has four grandchildren and three great-grandchildren.
When Jack died in 1947, Alan inherited his share of the apiary, and in 1950, when his father retired, Alan took over the business. Over the next 25 years, the Coaldale operation maxed out at 2,000 hives.
During his career in the beekeeping business, he advocated for importing bees from places other than California, and in 1972 was granted the first import permit issued in Canada to bring in 350 queen bees from New Zealand. In 1970, he was involved in the first major sale of honey to Japan.
In 1961, Alan was presented with the Master Bee Farmer Award of Alberta, and was presented with Lifetime Honourary Membership from the Alberta Honey Producers Co-op in 2015. He has been past president of the Alberta Beekeepers Association, Canadian Beekeepers Council and the Southern Alberta Beekeepers Association, and is the former director of the Alberta Honey Producers Co-operative.
Those who are interested in getting into the bee keeping industry should contact Alberta Agriculture to get more information. While the abundance of bee farms may mean that a couple are already established in your area, Graham says "there is still room" for newcomers in the industry.
"Right now, beekeeping is very, very prominent in Alberta," said Graham. "If you look around the fields out here, that are in full yellow bloom with canola in summer, there's not enough bees to cover them."
"From here to Medicine Hat, there is room for thousands of hives."
However, he does caution that you can't be afraid to get stung.
"Every body doesn't like bees — in fact most people don't — because you do get stung, sometimes you get stung very badly. But of course, there's problems in everything you do."
While Graham would retire from the farm in 1975, selling the apiary in 1975 to a long-time friends and employees, he continued to stay engaged in the beekeeping industry. After selling the apiary, he worked as a real estate agent for a few years, keeping some hives on the side, after which he was recruited by Plant Genetics Systems and was their hive inspector.
Outside of the apiary, he kept busy in the Coaldale community. He was a founding member of the Kinsmen Club of Coaldale, a board member of the Coaldale United Church and played a large role in establishing the Coaldale Library. He was named Coaldale Citizen of the Year in 1994, which he shared with Jinete, and served as the parade marshal for the Town of Coaldale's 100th anniversary in 2019.
He served as mayor of Coaldale for 13 years, with his first stint being from 1953-57. The mayor at that time had quit and moved away, and not long after that another municipal election was held, and Alan said he had enjoyed the time he served as mayor. When he first got into municipal politics, Graham noted that he was president of the Alberta Beekeepers Association and was playing a prominent role within the Kinsmen Club, and "it all sort of fit together".
"You had to have some knowledge of controlling a meeting and keeping people together and keeping them apart, but keeping them together was a tough job some days, especially the way they like to fight amounts themselves. And I've been here a long time, and there were a lot of things the town need, and I figured, well, I can maybe help get some of the things we do need."
Streets, sidewalks and recreational facilities were some of the things Coaldale had needed then, as the only thing that was there was a curling rink that local farmers had built. The town had put in a new water and sewer system around then, and while it "worked good", a lot of things needed to be done to keep it going.
Graham's other stints as mayor were from 1962-1967, and a three year term after winning the municipal election in 1998.
He advises young people should take the advice they can get from their parents, and if they don't agree with some parts of it, question them about it, "and see if there isn't another answer."
"You get out of this world what you put into it, and right now I feel I'm quite satisfied by my life. I've had lots of problems, and I've had to think them through, and as the days go on, I think you get a little wiser. You listen to people and you get different answers from different people, but you have to think it all through."
On Sunday, Sept. 6, people are asked to help celebrate Graham's birthday during a parade, park and sing event.
Participants are asked to line-up facing east behind an RCMP escort at the corner of 14 Avenue and 21 Street in town at 1 p.m., with the parade proceeding North on 21 Street to the Gem of the West Museum's Parking lot at 1:30 p.m. Once in the parking lot, participants are asked to slowly drive by Graham, park, and just outside of your vehicle, with mask on and social distancing, join everyone in singing Happy Birthday.