Coaldale council declines request for Municipal Inspection
Posted on October 20, 2020 by Sunny South News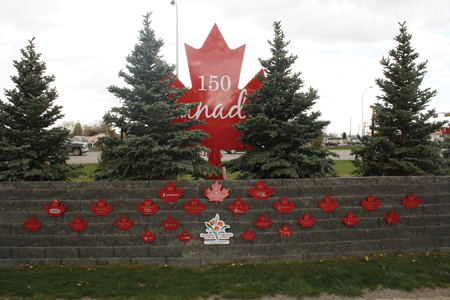 Sunny South File Photo
By Trevor Busch
Sunny South News
Facing public allegations of wrongdoing and a group of local activists demanding a municipal inspection, Coaldale town council has declined a request to initiate the process while taking steps to refute criticism that has been leveled against them in recent weeks.
On Sept. 28, council had passed a resolution to table further discussion of a request for a municipal inspection until Oct. 13. At that meeting, CAO Kalen Hastings outlined the process and requirements for the inspection process, and in what situations an inspection would be warranted.
Sec. 571(1) of the MGA enumerates three scenarios to initiate a municipal inspection. The process can be initiated on the minister's initiative, by request of a council, or by petition from electors of the municipality constituting at least 20 per cent of the population. The inspection mandate – that is, the core purpose of the process – requires the inspection to determine whether a municipality is being managed in an irregular, improper or improvident manner.
"The core purpose of an inspection is to determine whether a municipality is being managed in an irregular, improper or improvident manner," said Hastings. "It is not a performance measurement tool, nor a 'conscience-clearing'vehicle for dispelling rumours. It is a serious process reserved for serious matters that cannot be resolved through other, more appropriate means."
Examples of issues leading to a municipal inspection include fiscal improprieties, a dysfunctional council or administration that is unable to make decisions, improperly awarded municipal contracts, corruption, and non-compliance with legislation.
"While 'self-improvement'is an outcome, it is not why the inspection tool exists," continued Hastings. "In reviewing the content provided in the municipal inspection reports of other municipalities, it is clear that municipal inspections do not exist to second-guess a council's strategic or capital plans, nor its vision or mandate for a community. An inspection does not pause Council-approved projects, nor freeze a municipality's assets until such time that the Inspection process is complete."
Hastings also suggested the timing of a municipal inspection would be inappropriate in the lead up to the 2021 municipal election.
"It would be unusual from an administrative fairness perspective to have the results of any major external inspection released leading up to an election. The reason for such embargos is to protect the integrity of such processes from being politicized."
The cost of the inspection is generally borne by the municipality subject to the municipality's ability to finance the expense. Costs vary depending on the scope of the approved inspection, but according to administration in consultation with Municipal Affairs they average between $50,000 and $70,000 but can exceed $100,000 to $150,000 depending on the scope of review that is required. The town also believes it would need to hire two additional staff for 12-18 months to assist, at an estimated additional cost of $250,000.
"The timeline for a municipal review process to be competed is generally a year or more – depending on scope and the time required by the Ministry of Municipal Affairs to assess the merits of the material provided to them by those seeking the Inspection," said Hastings. "Inspections are not automatically granted just because they are asked for. Nor are they automatically granted just because Municipal Affairs is in receipt of a petition asking them to do one."
During his presentation to council on Sept. 28, Jack Van Rijn of Citizens for a Better Coaldale informed council he was told by Municipal Affairs that "whatever is happening with the school and where it is in the budget cycle, a municipal inspection might hit the pause button on that until they find out what's going on when they go back layer by layer." In response to this during his presentation to council on Oct. 13, Hastings alluded to the fact that a municipal inspection process could jeopardize funding of the town's new $39-million school for the community. He advised council that "this may be an important fact to verify because we are currently sitting on the stimulus /spend side of a government's spending cycle."
"While every level of government has the freedom to manage the pace and distribution of spending as they see fit, strategically the least advantageous time to pause a shovel ready project -that relies on provincial funding to move forward -is during a stimulus spending cycle," said Hastings. "In addition to reaching out to the Minister of Municipal Affairs, a meeting with Palliser School Division is recommended to see if they would still maintain Coaldale as Coaldale High School got delayed as a result of a municipal inspection."
Included as background during discussion of the inspection request were a number of letters of support for council initiating the process.The meeting's agenda included an Oct. 5 petition letter signed by former councillors urging the town to approve a municipal inspection. These individuals included former councillors L.M. Flaman, Colleen Valin, Dave Neufeld, Bill Martens, Van Rijn, Don Wentz, and former mayor Alan Graham.
The Alberta Birds of Prey Centre also weighed in with their own Oct. 5 letter signed by President Don Wentz and managing director Colin Weir, expressing support for a municipal inspection.
"By approving the Municipal Inspection, council as an entity would be demonstrating its political integrity, in addition to its commitment to welcoming community engagement and promoting transparency."
In an Oct. 6 letter to Mayor Craig and town council from Van Rijn on behalf of Citizens for a Better Coaldale, addressing allegations of town wrongdoing and attempting to refute arguments against a municipal inspection such as an upcoming municipal election, the potential cost of the process, and length, he pushed for the town to approve it.
"By approving a municipal inspection, town council would be sending a strong message to taxpayers that it is proud of its record and wishes to work together with residents, even those who may disagree on some issues. Accordingly, to resolve these many issues and as a gesture of good faith for the well being of our community, I ask that you approve our request for a municipal inspection for the Town of Coaldale without delay."
The Oct. 13 agenda also noted there were 352 letters of support from citizens posted on the town website.
Mayor Kim Craig addressed the concerns of residents and citizens, and acknowledged that on the public relations front the town and council could do better.
"I'm a big supporter of self improvement. You are not going to hear me say this council has done everything perfectly. But I am very proud of what we, as a council, have accomplished so far. I recognize there are areas that we could improve on, our communication abilities, as a council, being one of them."
Craig argued the request for an inspection doesn't meet the burden required to initiate the process.
"The information provided continues to lack the specifics required for us to ask for an inspection -a process that has the potential to cost us significantly more than what the proponents of the review estimate, perhaps upward of $200,000 when many other factors are considered. It is highly unlikely that a report will be complete and published this council term. To me, that's an imprudent use of tax dollars and lazy governance. If there are issues that need to be dealt with, we can do that now, starting tomorrow using the right tools and resources. A municipal inspection is not going to provide this falsely advertised catch all cure for community concerns."
Craig said there are other methods of achieving the desired outcome that can be initiated at much lower cost to the taxpayer.
"I remain of the mind that we can deal with the core areas of concern that have been identified in a matter of months — for a fraction of the cost — without jeopardizing significant funding opportunities like a new high school."
He went on to detail his appraisal of the Civic Square and new high school/rec centre projects that have drawn criticism, suggesting the town's due diligence has been satisfied at multiple levels of government and through independent assessments.
Craig was firm in his assertion that the school site was already water under the bridge.
"Why would we, as a council, voluntarily agree to hit the taxpayer with a costly and time-consuming provincial inspection process in order to bring 'external validation'to a project site that has already been externally validated by two different external (provincial) departments? The school site has been chosen. We have executed our due diligence requirements. The province vetted and endorsed the site that was chosen. The perceived validation that a municipal inspection will bring to an already vetted project is redundant and unnecessary. It's time to move on."
Allegations regarding a toxic workplace environment at the Town of Coaldale were also addressed by council. In an Oct. 4 letter received by the town, former employee Kris Mikado highlighted concerns with how the town interacts with and manages its employees. Mikado was terminated by the town in March 2020.
"Over the past few years, I feel there has been an unacceptably large number of town employee resignations, terminations, severance packages, wrongful dismissal lawsuits, settlements, non-disclosure agreements, etc. This volume of employee turnover, along with circumstances and complaints from former employees, should create justified cause for the town council to approve a municipal inspection of how the town is being managed, not only for personnel issues but all administrative matters."
Hastings was unsure why this was the first time the town was hearing about Mikado's allegations.
"It is frankly perplexing why we are hearing about such serious things from a former employee seven months after his departure, given all of the independent recourse tools that are at his and any other employee's disposal. In Mr. Mikado's case, I can confirm that he was represented by AUPE – the Alberta Union of Provincial Employees – throughout all aspects of his employment as well as his departure. He had full and complete representation pursuant to the Collective Bargaining Agreement and applicable statutes, and received, in all the circumstances, a very fair treatment."
Also in his Oct. 6 letter to council, Van Rijn outlined he had been contacted by 23 former town employees regarding allegations of bullying, harassment, intimidation and demoralization during their employment with the town.
"It is mysterious, with the number of independent, external agencies that are available that none of the 23 employees generally mentioned in the materials provided felt comfortable enough – nor the need to – pursue any of the recourse tools available to them," continued Hastings. "Having worked with AUPE for the past six years, I can say that they have never been shy to advocate for their members. I know that if anyone complained to them about being belittled, harassed, bullied or discriminated against in the workplace, they'd waste no time pursuing it."
Hastings would also confirm that during his tenure as CAO (since 2015), no town employee has filed a grievance related to a toxic, discriminatory, or harassing workplace environment, and the town has not been involved with any legal, arbitration or tribunal hearings of any kind that have been held in response to such allegations. In addition, no incident reports regarding alleged bullying, harassment and discriminatory behaviour have been filed with the town's safety advisor, the town recently passed an external safety audit by an independent third party consultant with no incidents documented in that area, and there have been no lawsuits pertaining to matters of discrimination or harassment.
"The truth is its own defense; there is nothing to hide," said Hastings. "I have no concerns with getting everything on the table so we can move forward as a community and organisation in the absence of ongoing rumours."
"Having an independent investigation conducted by a trained investigator will also vet the credibility of the claims provided by Kris Mikado, who has relied on assistance from his brother in law and a former Councillor and unsuccessful Mayoral candidate to get his message out. All three individuals are part of the same group that refers to themselves as Citizens for a Better Coaldale. Given the curious connections – indeed, the close nexus – between the parties that are advancing this employee complaint letter, an external review by an independent HR investigator will be important for ruling out the possibility of – or the very least, the optical perception of – political intent and collusion."
Hastings noted there have been no OH&S investigations regarding matters of discrimination, harassment or violence in the workplace, and no complaints filed with the Alberta Human Rights Commission.
Craig would also question the timing of the allegation on the part of Mikado.
"The Town has only become aware of Mr. Mikado's concerns as a result of his recent public letter since no formal complaint, through any of the procedures available to employees like him, was filed… if knowledge of an incident arises, you deal with it right away. You don't deal with an incident that comes up through a multi-year (municipal) inspection process that will cost hundreds of thousands of dollars. That is the wrong tool for the job."
"I, for one, am not interested in waiting a year or more to receive a report by an inspector hired by the province to learn about what our workplace culture is like. Nor am I interested in waiting a year or more to have allegations of harassment and discrimination verified."
Following discussion of these allegations, council voted unanimously to contract a third party mediator to be brought in to report to council on the allegations made by Mr. Mikado with respect to the Town's working environment.
In his closing remarks regarding the need for a municipal inspection, Craig didn't mince words about the potential cost to the municipality.
"The answer to me is quite simple: we don't just commit to spending hundreds of thousands of tax dollars without good reason, and when better methods or courses of action exist for the particular matters brought forward. The municipal inspection process isn't a tool you resort to because you are curious about your performance, nor a tool you resort to in order to pacify or prove detractors wrong."
With respect to a inspection petition that has been initiated by Citizens for a Better Coaldale, Craig washed his hands of the potential consequences.
"If the group that calls themselves 'Citizens for a Better Coaldale'wants to spearhead a drive to obtain the requisite number of signatures for the chance of convincing the Minister of Municipal Affairs to grant an inspection — at the risk of pausing funding for our new high school — that will be on their hands and conscience, not mine."
During the closed session portion of the meeting, council heard legal opinions on the Municipal Review Process and discrimination and harassment allegations (FOIPP Sec. 23-24). Following discussion, council voted 6-1 in favour of declining the request for a council-sponsored municipal review. Coun. Jacen Abrey opposed the motion.