Agriculture impact report highlights importance of industry in Lethbridge County
Posted on October 27, 2020 by Sunny South News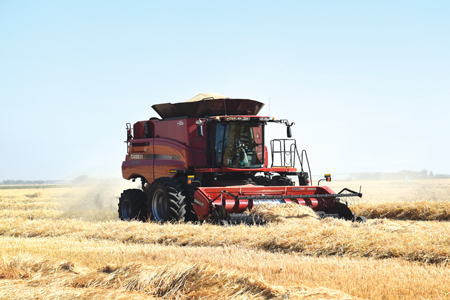 SSN FILE PHOTO
While it's no secret that the agricultural industry plays a huge role in the local economy, a new report commissioned by Lethbridge County gives insight into just how large of an impact the industry has on the province as a whole.
The Economic Impact of Agriculture in Lethbridge County report was prepared by Serecon and presented to Council at the October 15 Council meeting. It outlines the size of the agricultural industry in the County as well as its overall impact to the economy and GDP.
Key findings include the over $2.2 billion in gross farm receipts generated in Lethbridge County; the only municipality in Alberta to reach this amount, which is more than double the next highest municipality's receipts at just under $1 billion. Livestock represents 80 percent of this figure, with crops making up the remaining 20 percent.
The report acknowledges the County's successful livestock industry, showing that the largest concentration of intensive livestock operations are located here and contribute over $500 million to the GDP.
Additionally, significant growth was identified in value-added agriculture. Many of the County's existing operations have expanded and several new businesses have been established, further adding to the economic impact of the industry.
"Our strength as a region lies in agriculture and our producers who make such significant economic contributions, not only locally but on a provincial and national scale," says Reeve Lorne Hickey. "Although the future for many municipalities remains uncertain due to the global pandemic, we are optimistic that we will weather the storm by supporting our ag industry that continues to provide the world with high-quality food products."
"It was important for us to be able to quantify the impact our agricultural industry has province-wide," says Chief Administrative Officer, Ann Mitchell. "We contracted Serecon to prepare this report as an independent third-party and we were pleased to see the significant amount of growth the industry has experienced in recent years. This information will be incredibly useful as we lobby the provincial and federal governments for support to maintain our essential infrastructure that our producers rely on to get their products to market."
"The Serecon report underscores the ongoing strength, stability and importance of our established livestock industry as well as traditional crops such as wheat, barley and canola," says Economic Development Officer, Martin Ebel. "However, it also highlights the exciting development of non-traditional, high-value crops in the county, in addition to the very strong investment in value-added agri-food production. It is really a nice balance, with realistic opportunities for continued sustainable growth in the future."
Additional findings: Lethbridge County's farm cash receipts increased by 90 percent from 2011 to 2016 In 2016, the County's agriculture industry had an impact of over $732 million to the GDP The market value of livestock and poultry increased by 200 percent from 2011 to 2016 to over $1 billion, the highest valuation in Alberta Wheat is the highest-contributing crop to the GDP, followed by barley and canola