Fatal collision south of Picture Butte
Posted on October 27, 2020 by Sunny South News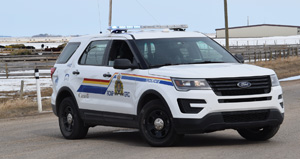 Sunny South News file photo.
Coaldale and Picture RCMP are investigating a fatal collision on Highway 5 south of Picture Butte on Oct. 19.
Coaldale and Picture Butte RCMP, along with the Picture Butte Fire Department/EMS, responded to a collision at 6:52 a.m. on Highway 25 approximately 2.5 kilometres south of Picture Butte.
Preliminary indications are that a blue car travelling north on Highway 25 lost control and collided with a southbound semi truck, RCMP said in a news release.
The 18-year-old female driver and lone occupant of the blue Chrysler Sebring slid driver's side into the front end of the semi. The impact caused serious injuries to the driver, who was transported to the Chinook Regional Hospital where she passed away from her injuries.
The family of the deceased woman attended the collision scene and are aware of the circumstances. The driver of the semi truck was not physically injured. The road conditions at the time of this collision were very icy.
This collision remains under investigation and no further updates are anticipated.