Picture Butte and Community Pre-Christmas Food Bank Fundraiser
Posted on November 3, 2020 by Sunny South News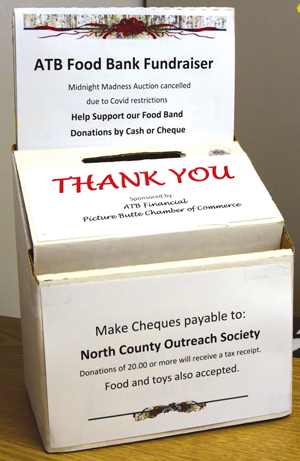 The season for giving thanks is here and Picture Butte Chamber of Commerce and the North County Food Bank want to make sure that families and individuals who need a little help get a few essentials. Normally, the pre-Christmas ATB Silent Auction raises a generous amount of funds to make this possible for our community residents. This year things being a little out of the normal the Picture Butte Chamber is suggesting you make a cash or cheque donation.
There will be donation boxes displayed at Chamber businesses in Picture Butte. Cheques should be made payable to North County Outreach Society. Donations of $20.00 and more will receive a tax receipt. If you would like to make donations of food or unwrapped toys for children under18, they can be dropped off at the Food Bank, 326 Highway Ave., Tuesdays or Thursdays 10:00 am -12:00 pm on or before Dec.10.
The Picture Butte Chamber is hoping next year the excitement of the ATB Silent Auction will be back. The North County Food Bank is a locally run organization that is volunteer based so any donations you give go to those in need.
This year Christmas hampers will be by curbside pick up only. Pickup dates are Dec. 17, 19, and 22 from 10:00am -12:00pm.
If you have questions, want to make another type of donation or need more information on the North County Outreach Society Food Bank message countynorth@yahoo.ca.