Coaldale workplace audit report released
Posted on December 22, 2020 by Sunny South News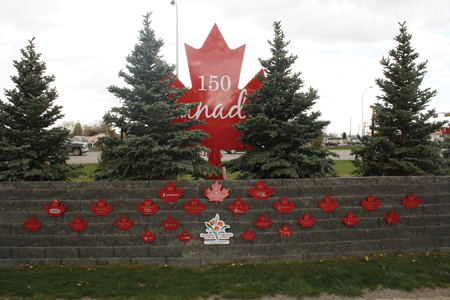 Sunny South File Photo
By Nikki Jamieson
Sunny South News
The report on the Town of Coaldale's Workplace culture has been released.
The report, which was commissioned by Coaldale town council, aimed to create an independent audit to examine the town's workplace culture. Cheryl Yingst Bartel was retained on Nov. 2 to complete the audit. During the course of the month-long investigation, which was open to both former and current employees, 33 interviews were conducted, where participants were asked to discuss only their experiences with the town. According to the report, with the exception of one past employee, "no employees identified any incidents of bullying, harassment, intimidation, discrimination or workplace violence as between workplace colleagues at the town".
"We as a council undertook this process in good faith notwithstanding the fact that we supported (and continue to support) our Town manager and staff. It was our belief that an investigation would prove decisively the quality of leadership and the strong performance culture that Mr. Hastings has been building," said Coaldale town council in a joint statement. "The report finds the workplace is not toxic, and in fact recognizes the quality of leadership provided by Mr. Hastings and the calibre of employees the Town has been able to attract."
According to the report, several strengths of the town's workplace include quality of work done by town staff; leadership; overall morale of staff — with many who participated in the audit feeling that their workplace was misrepresented in the media — although morale at the town shop was lower; having appropriate policies, procedures and training for addressing bullying, harassment and intimidation; and hiring a safety office.
Areas of improvement include morale at the town shop; a need to improve communication; inconsistent human resources support; lack of an employee handbook for some employees; inconsistencies in performance evaluations; and impacts of turnovers.
Ultimately, the report recommended that a consistent performance evaluation system be adopted and followed by the organization as a whole, communication to employees be improved, a revision of the Employee Handbook be completed and communicated to staff, the town continues with the initiatives it established to try to incorporate Shop employees into the organization, resume all-staff breakfast meetings once the pandemic allows, any employees that have not yet received comprehensive training on the Occupational Health and Safety Manual be given that training by the safety officer, and that the Human Resources consultant review the Respectful Workplace Policy in conjunction with the Safety Officer to ensure clear procedures are being maintained for when investigations will be undertaken.
The statement from council noted that the recommendations had already been identified by management and there are plans in place to address them prior to the report being commissioned. Additionally, culture is approving at the shop and it will continue to be an area of focus.
"Based on this positive report reinforcing our collaborative culture, as well as the clear feedback on the impact of unfounded attacks on the stress of Town Staff, we are unanimous and unequivocal as a Council that we will not tolerate any further unfounded allegations of misconduct or impropriety against anyone associated with the Town. Further, we will take strong and decisive legal action on any such defamatory actions moving forward," reads the statement from council. "We as a Council believe this independent process disposes decisively of any leadership allegations or concerns contained within the municipal Inspection request. We remain firm in our view that there is no grounds to proceed with a municipal inspection and that doing so would be an abuse of the formal inspection process. In light of the positive results from this report it is clear that revisiting these matters under the provincial inspection regime would be a highly inappropriate use of employee time and taxpayer resources."
The report is available on Sunny South News' website, or at https://www.coaldale.ca/sites/default/files/images/HR%20 Culture%20Audit%20_%20Town%20of%20Coaldale.pdf.
"Like all organizations, we recognize that there are always areas where we can improve, and our administration has never shied away from continuous improvement. This report, while clearly articulating the exceptional work being done by our management team, notes a few areas where we can continue to strengthen our internal processes. The recommendations provided highlight areas where internal process improvements are largely already underway," said Coaldale Mayor Kim Craig. "The bottom line from the report is this: a neutral third party, independent auditor, whose resume speaks for itself, has highlighted the high calibre, high performing team that's been put together, and the strong and healthy workplace culture that exists, and is only getting stronger, at the Town of Coaldale. The analysis of the Report clearly articulates that our team is performing at the highest level. As a Council, we could not be more pleased with this report card."
During a special council meeting on Dec. 15, council unanimously passed a resolution that stated, as follows: whereas Coaldale Town Council takes allegations of discrimination and harassment seriously; and whereas Council retained Cheryl Yingst Bartel, LLB, LLM, from the roster of approved mediators from the Province of Alberta, mediation services branch, for the purpose of conducting an internal assessment of the Town's workplace environment and to rule out or identify any instances or evidence of discrimination, harassment and bullying in the workplace; and whereas Council is in receipt of, and has had the opportunity to review, the independent reports provided to them by Ms. Yingst Bartel, including the Workplace Culture Audit and the workplace complaint filed by a former employee; and whereas Council acknowledges the duty and responsibility of all employers to provide a safe work environment for employees, as well as administration's ongoing efforts and strategic mandate of being an employer of choice; now therefore, be it resolved that council: publish the full "Workplace Audit Report," free from any redactions along with Auditor's cover letter regarding process of the audit and her CV on the Town website and to have Ms. Yingst Bartel send copies of same to all participants; adopt the recommendations in the Workplace Audit Report and support Town administration's efforts to implement them; and instruct the Town's legal counsel to send a letter to the former employee who initiated a complaint involving allegations concerning workplace discrimination, harassment and bullying at the workplace. Further, that Council develop a statement with the assistance of a facilitator; and further, that Council submit the full auditors report to the Minister of Municipal Affairs with a copy to the MLA for Taber-Warner on December 16, 2020.
Yingst Bartel works exclusively as a neutral in the area of labour relations and employment and holds an undergrad degree in law and a graduate degree in Labour Relations and Employment Law, hold provincial appointments to the Arbitration Roster and the Mediator's Roster, and an appointment under an Order in Council to the Roster maintained by the Minister of Education under the School Act and form a Board of Reference to adjudicate certain disputes in the K-12 school system. Federally, Yingst Bartel holds an appointment to the roster of External Adjudicators for the Canada Industrial Relations Board, to adjudicate unjust dismissal and wage recovery complaints for industries governed by the Canada Labour Code, for industries like airlines, banking and telecommunications, and appointments from the Federal Public Sector Integrity Commissioner's Office as Senior Conciliator to resolve "whistle-blowing" reprisal complaints in the Federal Public Service, across Western Canada, and is a frequent conference and workshop speaker in the area of Labour Relations and Employment Issues to various stakeholder groups.
Coaldale town council had launched the audit after turning down a request for a municipal inspection from a local citizens group.
In a response, Citizens for a Better Coaldale said they and many of the town's residents want a municipal inspection to go forward, and while they would leave the issue of employee abuse allegations to the town and their former employees to reconcile, there still remained concerns with the audit, such as past town staff not being aware of it as it was only advertised on town channels.
"I want to make it clear this Workplace Culture Audit has nothing to do with Citizens for a Better Coaldale. This is between the Town of Coaldale's former employees and Coaldale Town Council," said Jack Van Rijn, a spokesperson for the group. "I feel the Town though appear to be using their HR investigation to diffuse the urgent need for a Municipal Inspection which it won't. The outcome and the Town's statements only makes the town look worse, and confirms many of the concerns expressed to the Minister Tracey Allard for the Municipal Inspection request."