Coaldale mayor discusses former employee's 'cease and desist' letter
Posted on January 26, 2021 by Sunny South News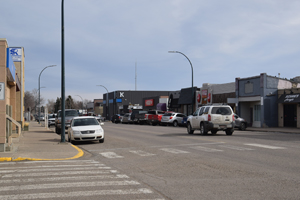 Sunny South photo by Nikki Jamieson
By Stan Ashbee
Sunny South News
It's been an ongoing seesaw of a "he said/they said" back-and-forth for some time now between the Town of Coaldale and a former employee.
In a recent media release submitted to local media outlets, including the Sunny South News, former Town of Coaldale employee Kris Mikado alleges former employees feel an HR Workplace Audit's findings are a "foregone conclusion and misuse of taxpayers' dollars."
Mikado, in the media release, alleges he expressed concerns about bullying and intimidation by town management and the town responded with a "cease and desist" letter.
Mikado asked in the media release, "How can an investigation into alleged managerial mistreatment of former employees be called fair and thorough, if the town makes no effort to directly contact most past employees who were the possible victims of managerial abuse?" For example, Mikado also alleges, employees with non-disclosure agreements — many of whom had complaints — were prevented from speaking with the investigator. Feeling this is a crisis, Mikado said, many people just hope Alberta Municipal Affairs will move forward with a municipal inspection process, as soon as possible.
Mikado noted the town never asked him to sign a non-disclosure agreement. "So, I can't really comment on that."
Coaldale Mayor Kim Craig said the HR matter has been officially closed, but the town encourages free speech and public discourse. "As long as it is factually accurate and not disparaging of town officials."
"That was the intent of what the lawyer was trying to convey," Craig added, in the town's "cease and desist" letter, issued by a town legal representative.
Looking at the whole HR audit, Craig noted, the auditor is impeccable in their credentials and with their work experience, and that's what the town wanted — "Was to have a very well-qualified and highlyreputable person conducting the audit. I think we got that."
According to Craig, looking at the report and the auditor's findings — specifically in regards to Mikado and his allegations — "It's quite enlightening in that regard. Nobody from the town was running any interference on his ability to communicate honestly with the HR auditor."
Council, Craig pointed out, all agreed on a format for the audit. "In hindsight, people might have their thoughts on what the audit achieved or how it was done. The structure of the audit was thoughtfully done to quickly respond to the most serious allegations brought forward. That was our primary attempt — to open up a conduit for that."