Hofman retiring as CAO
Posted on February 23, 2021 by Sunny South News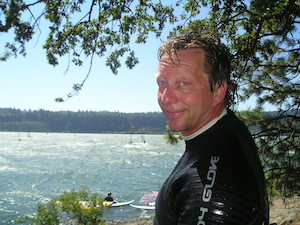 By Nikki Jamieson
Sunny South News
After more than 15 years working for the town of Nobleford, Kirk Hofman will be leaving his position as chief administrative officer (CAO).
Hoffman has long ties to the Nobleford area – his great-grandparents had homesteaded in the area, and his grandparents and parents lived there – and he has enjoyed working for the town he grew up in. With the exception of a brief period were he moved away in 1977, he has lived in the former village his entire life.
"I thought it was good, when I moved away I realized how great it was. I moved back to Nobleford to raise a family, and it's probably the best place I've ever been," said Hofman. "When you're young and you graduate from high school, you're going to secondary education and you think things are greener somewhere else and career. But when the important things in life come around, like I got married, where are we going to raise a family? My wife was the one that said, 'well, I think Nobleford is a great place to do that, and that's what we did.'" "I had my own businesses, so it wasn't a career move that brought me to Nobleford, it was quality of life."
Hofman moved back to Nobleford in 1984, and his kids and grandchildren live there today.
? Turn to CAO, 5 Hofman had previously served as a village councillor for Nobleford. Ten years later in 2004, the village council had approached him to help out with water quality issues in the village. Hofman had accepted a position as CAO for a three-year term, with his first project dealing with water quality, which resulted in building Nobleford's new water treatment facilities back then.
During his tenure working for Nobleford, he has seen the town hit many milestones, such as seeing the village grow and officially become a town in 2018, Nobleford's 100th anniversary. According to federal census data, Nobleford's population in 1996 was 588, while in 2016, it was 1,278.
"In the words of a former mayor, it took 100 years to build the first half of Nobleford and 10 to build the second. Since the turn of the century, in 2000, that's where the biggest change took place in Nobleford. New jobs, new houses, more people. Population switched from a retired community into a vibrant family-orientated (community). When I was growing up in Nobleford, there was about 500 people living here, and we all knew each other," said Hofman. "I still know everybody in Nobleford, but often it's by their name or relationship with utility accounts or building houses or business. The family of Nobleford has grown quite a bit over the last few years."
It wasn't always a steady growth for Nobleford though. Hofman noted in the 1990s, the then-village was experiencing a decline after the Noble Cultivators Factory – better known as Noble Blade – closed down, and had at one time employed about 70 per cent of the people in Nobleford and paid for about 50 per cent of the taxes.
After it closed down and was sold off, the former village had few jobs, a poor economy and some of the highest taxes in the area.
"What was the biggest challenge? To turn around that decline, so Nobleford could be in existence and the council of the day recognized this was a very, very serious time, and something had to redirect where Nobleford was going, because it wasn't in the prosperous direction, it was in the survival mode."
Hofman said he had some business skills he brought to the table, and worked on putting together a plan on how to turn the town's economy and environment around, so the community could be sustainable.
After working on the water issue, work began on building subdivisions and rebuilding roads, sidewalks and sewer lines, before they turned to "icing on the cake" things like recreation, and figuring out how to pay for those facilities without charging their taxpayers, and they worked with the community on applying for grants and fundraising, so the community could build things like playgrounds, walking paths and spray parks.
Since 2000, Hofman said the town has surpassed being sustainable, and is now prospering, with a higher population, taxes being a tenth of what they were and infrastructure that can carry them through decades.
"We want all these things, but if we can't lower taxes, it will never succeed, and we have lowered taxes. So the ultimate measure is a good quality community with low taxes," said Hofman. "Is that what brings people to Nobleford? Sometimes it is. Is that what keeps people in Nobleford? Yes it is. But more importantly it brings people back to Nobleford. Like myself; I moved away, seen the world, I've travelled to like 70 countries in the world, I wouldn't choose anywhere else to live, but Nobleford."
Hofman thanked former Nobleford mayor and school teacher Paul Goldade "for dragging me into this field" and Paul's wife, former school teacher Mary Anne Goldade, along with then councillors Larry Thomsen and Henk Bennink, who with Paul Hofman said were the "architects of today's Nobleford." Hofman also credited Mayor Don McDowell as the leader able to keep Nobleford on-course over the past six years "I was given the opportunity to be part of that, and they recognized something in me I probably didn't at that time," said Hofman. "I never really wanted to be a CAO, never wanted to, but I did want to achieve the things that have taken place in Nobleford, and it just so happens being the CAO was one way to be part of it."
Hofman will be staying on until his replacement is found, and has come to an agreement with council to stay on until then and to help with the transition, with a target of having a new CAO in place by July 1.
Just in time to enjoy some of his favourite water activities with his family.
"I've got some hobbies I will spend more time with, and the great things are my grandchildren live in Nobleford, so instead of playing with them a few times a week – I will get to play with them every day," said Hofman.
"Just enjoy life, have some time to myself. As a CAO with the town of Nobleford, and actually living here, it is a 24/7/365 job for me.
"Time is the most valuable thing we all have, so it's just time. It's all about time."
However, Hofman says he still plans to be in involved in projects around the community.