Coaldale high school receives provincial funding
Posted on March 16, 2021 by Sunny South News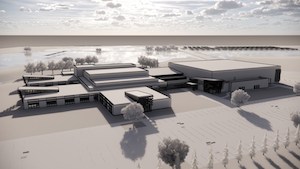 Image submitted by the Town of Coaldale
By Nikki Jamieson
Sunny South News
Funding has been announced for a new high school in Coaldale.
On March 10, the province announced $268 million for school construction across the province, including funding for five modernizations or additions, two school replacement projects and a school ownership solution. This year, funding was announced for schools in Airdrie, Calgary, Camrose, Coaldale, Edmonton, Evansburg, Fort Vermilion, Lethbridge, Manning, Milk River, Red Deer and Sherwood Park.
"Alberta's government understands the importance of high-quality education infrastructure and the positive difference it can make for rural communities like ours. I'm proud to support these Budget 2021 investments that will support students, families and growth in Milk River and Coaldale," said Grant Hunter, MLA for Taber-Warner.
"Our government is planning for the future by continuing to build schools. New and modernized schools create better learning environments for our students and are an important part of their overall education. I am proud to add 14 new projects this year with dozens of other projects progressing all across the province," said Adriana LaGrange, minister of Education for the province.
Palliser Regional School Division thanked the province for their investment in rural infrastructure, and the Town of Coaldale for helping make the project a reality.
"It's certainly very exciting news for the Palliser School Division and Coaldale community," said Dave Driscoll, superintendent of schools for the division. "I know the Coaldale community, staff and families have been looking forward to a potential announcement and the building of a new school for quite some time."
"Here at Palliser we are very excited this project has received funding and are ready to move forward to provide a world-class educational facility for the Grade 7-12 students in Coaldale," said Dexter Durfey, secretary-treasurer for Palliser. "Due to a rapid increase in the population in Coaldale it has become necessary to reconfigure the grades. With this new Grade 7-12 school, we will be able to alleviate the pressure in all Coaldale schools, and at the same time, greatly enhance the learning opportunities for the older grades."
According to a media release from the division, specific budget dollars have yet to be determined for the new school building.
The planned new high school will replace the existing Kate Andrews High School building, with the new high school being located in northwest Coaldale alongside a new multi-use recreation centre. The new school will house Grades 7-12, as part of a grade reconfigurement package within the town. The other two Palliser schools – Jennie Emery Elementary and R.I. Baker Middle School – would become Kindergarten to Grade 3 and Grades 4 to 6 respectively.
Coaldale Mayor Kim Craig said council was thrilled about the announcement, saying it was "once-in-a-generation good news" for the town and praised the hard work and dedication of town administration and staff in making the project a reality.
"This project is the direct result of an immense amount of time and effort put forth by our staff to develop a comprehensive project proposal that was simply too good to be ignored. The reality is there are many, many communities in the province seeking this kind of investment – it's not easy to stand out from the pack, particularly when there is so much demand for provincial investment in major centres like Calgary and Edmonton," said Craig. "For us to be able to have shovel-ready land, a demonstrated commitment to partnership with the school board, and a major recreation co-development opportunity ready to go, it simply presented the province with an investment opportunity that couldn't be ignored. I'm tremendously proud this team and this community was able to get this project approved. I am so thankful for the Province of Alberta's support, and I couldn't be more excited to see this new joint high school and multi-use recreation centre come to fruition alongside our friends at Palliser Regional Schools. It's a great day for Coaldale, no question about it."
"The town has always planned on working side-by-side with Palliser Regional Schools on the joint high school and multi-use recreation centre, so this incredibly exciting announcement from the province marks the official start of a long-anticipated partnership. We've already started meeting with the school division to figure out the best way to marry these projects together in a way that benefits both groups. From there, we can start tendering out contractors and lock down a construction timeline," said Russ Tanner, director of Recreation and Community Services for the town. "Constructing both the high school and recreation centre as steps in a single larger project is a huge cost advantage to both the town and the school division and will guarantee the final product exceeds the community's expectations as an innovative, one-of-a-kind facility. It also means long-term operating cost savings that will contribute positively to the recreation centre's bottom line, which is something we always love to see."
In 2018, representatives from Palliser, the town, Lethbridge County and the provincial government came together to find a solution for Coaldale's future education needs. The preferred option, known as the Coaldale Community Schools Solution, would see grade reconfiguration at all three of Palliser's schools in Coaldale and the construction of a new high school.
However, the new project was not without its bumps. The town's decision to pursue the northwest location for the new Palliser Regional School Division high school, known as Site A, had been met with controversy with people concerned about traffic, safety and lack of public consultation.
These concerns had prompted a 600-page report and presentation from town staff, Coaldale Emergency Services, CP Rail and the RCMP in June 2019 detailing why the site was selected and safety measures that would be put in place.
Durfey said until they get the final particulars from Alberta Infrastructure, they don't have a solid timeline for the project, but expect work to begin in the next couple of months.
"This is obviously a major project from a construction standpoint. The public should look to see the infrastructure for the site to begin this spring, along with foundations for both buildings into the summer.
"Given the scope of the project – the recreation centre alone is approximately 60,000-square feet – it's reasonable to project a construction timeline in the range of 18 months,"said Cameron Mills, manager of Economic Development for the town.
Additional project details will become available in the coming weeks.