Coaldale Municipal Inspection request
Posted on March 16, 2021 by Sunny South News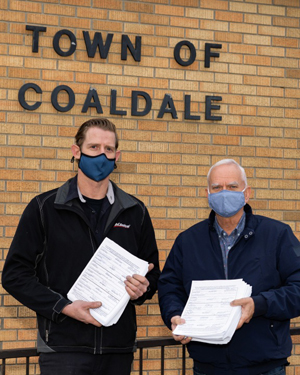 Sunny South photo submitted by Clive Schaupmeyer
By Stan Ashbee
Sunny South News
According to a recent media release submitted by Citizens for a Better Coaldale, the group received a letter dated Mar. 5 from the Alberta Minister of Municipal Affairs Ric McIver, informing the group the province's review of the petition for a Municipal Inspection has been reported as "sufficient."
Twenty per cent of Coaldale's population from the last census (2019-8,691) translated into 1,739 valid signatures being required for the inspection to be approved, according to the recent media release. "This means we have met the required number of signatures required by the Municipal Government Act (MGA) for the Municipal Inspection process to proceed," it was stated.
"We knew we needed a few hundred additional signatures over and above the minimum required," noted Jack Van Rijn, from the Citizens for a Better Coaldale group. "We had to anticipate at least several being disallowed due to technicalities and human error, such as incorrect exact addresses being listed or possible illegible handwriting."
Van Rijn pointed out the group was confident it would reach its goal, based on the number of people wanting to sign. "Over 2,300 people signed – which reaffirmed the high-level of public dissatisfaction with the way Coaldale town council and administration have been conducting business." Minister McIver's letter, according to the media release, stated the next step will be for ministry staff to conduct a preliminary review of the concerns that led to the petition. In addition to interviewing Van Rijn as the representative who submitted the petition, Alberta Municipal Affairs staff will also conduct interviews with members of town council and administrative staff, it was stated in the media release.
"The purpose of the next procedural step is to determine the underlying reason for the petition request and to ensure an appropriate response is taken," it was noted.
"While I am relieved this important step is now complete, I look forward to a truly independent assessment taking place, along with the results that will be shared with the public. Viewing this as a positive and constructive process, I and many others who signed the petition feel a Municipal Inspection will be invaluable to the health, well-being and future prosperity of the Town of Coaldale," Van Rijn stated.