Traffic pilot program gets green light in Coaldale
Posted on June 1, 2021 by Sunny South News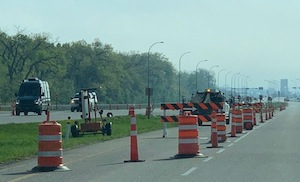 Photo by Nikki Jamieson
By Stan Ashbee
Sunny South News
According to a recent media release, the Town of Coaldale will be embarking on a Traffic Calming Pilot Program this year to evaluate places in the community that may benefit from traffic calming measures.
It was pointed out, the pilot program will help inform the development of a formal traffic calming policy that will benefit from the learnings that come out of the pilot program.
"Traffic calming is a term commonly used to describe the physical elements of the built environment that are installed to limit speeds and other unsafe driving behaviours and encourage safer, more responsible driving to improve comfort levels for all road users," stated Spencer Croil, director of Planning and Community Development.
"Our pilot program will closely follow the recommendations for traffic calming models outlined in the Transportation Association of Canada (TAC) Canadian Guide to Traffic Calming. We'll also borrow elements from other communities that have successfully implemented their own traffic calming policies."
Coaldale's traffic calming pilot will allow residents to submit a request backed by other community members to demonstrate community support for the request.
This helps to ensure resources are being allocated responsibly and equitably, and any potential traffic calming solutions that may be put in place are supported by the area in which they are being installed.
An initial request will trigger a period of exploration and engagement from the town.
"Our goal is to identify where the community sees potential problems in the neighbourhoods they live in and move through every day," noted Croil.
"We hope to work directly with the community members throughout the process to ensure all perspectives are considered and the potential solutions fit within the local context. Ultimately, we want to improve safety and comfort for all road users," Croil added.