Southern Alberta says a sad goodbye to local philanthropist and friend Cor Van Raay
Posted on August 4, 2021 by Sunny South News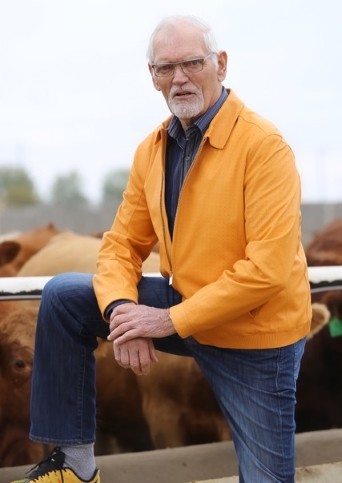 Cor Van Raay
By Al Beeber
Southern Alberta Newspapers
Well-known southern Alberta philanthropist and cattle industry pioneer Cor Van Raay passed away at Chinook Regional Hospital last week.
Long-time friend Henry Doeve, the chair of the Cor Van Raay LINK Pathway Committee, said Friday "it's a sad day. I know it comes to that — but the end is always a shock."
The pathway was among the many endeavours Van Raay supported in southern Alberta. When completed, it will be a 15-kilometre long recreational corridor linking Lethbridge with Coaldale, enabling people to walk, bicycle, rollerblade and even snowshoe between the two communities following along an irrigation canal Construction on the first 2.5 kilometres is scheduled to start in September.
"He saw the vision and saw it as a good project," Doeve said, of his long-time friend.
"We got along well, it's hard to wrap your head around," said Doeve.
Van Raay's generosity has been felt by many in southern Alberta over the years.
Along with wife Christine, he was the founder of Cor Van Raay Farms. Together, they raised six children.
In 1964, the couple bought 320 acres of land in Iron Springs from the Molnar family, according to the VRP Farms website.
They grew grain there and also rented out land to grow sugar beets. In 1965, after the farm began to struggle financially, Cor started working winters in saw mills and oil fields.
As crops improved, so did the family's financial situation and in 1972, he built corrals for cattle. In the 1970s, the family's cattle feeding operations — at what became known as the Home Lot — expanded, while Cor and Christine continued to grow beets, potatoes, barley and wheat.
Eventually at one point, they would run five feedlots with a capacity over 100,000 head.
In the 1980s, they diversified by joining forces with the Pascal family and got involved with a trucking and cattle feeding operation called Butte Grain Merchants, as part owners.
In 2009, four years after breast cancer claimed Cristine's life, a majority interest in the Van Raay farm was sold to four of the couple's children — Sandra Leith, Colleen Mackey, Michelle Van Raay and Darren Van Raay. They managed Cor Van Raay Farms Ltd. until it amalgamated with Pascal Cattle Company in 2015.
His financial support of southern Alberta includes a $3.75 million dollar donation to support maintenance of the West Lethbridge Cor Van Raay YMCA. He also donated $5 million to the Lethbridge College/University of Lethbridge Cor Van Raay Southern Alberta Agribusiness program and created a U of L Faculty of Management scholarship in Christine's name.
Other recipients of his generosity include the Lethbridge Food Bank, Chinook Regional Hospital, St. Michael's Health Centre, Helen Schuler Nature Centre and pools in Picture Butte and Outlook, SK — where he started a grain farm.
In October 2020, the Community Foundation of Lethbridge and Southwestern Alberta established the Cor Van Ray Endowment Fund. In 2017, he was given a National Philanthropy Day Inspiring Philanthropy Award in recognition of his generosity. He was nominated for the award by Lethbridge College.
Last year, he was also named Picture Butte's Citizen of the Year.
"It's nothing but an honour," Van Raay told the Sunny South News at the time. "I supported the community for a long time, and had farmed there for 50, 60 years."